This 3-steps guide boils down the most important factors of SEO and content marketing success for industrial companies like manufacturers or suppliers.
We're speaking from our own experience of building our own industry-leading B2B focused websites, generating thousands of high-value leads every month.
Most businesses simply fail at recognizing the most important measures and mastering these. They get caught-up in trying to implement dozens of fancy new digital marketing tricks simultaneously and end up getting no results at all…
Industrial marketing is not much different from general B2B digital marketing, but there are still some special challenges you need to pay attention to. If you'll master these, you'll get more inbound-leads and become a real authority in your niche.
What Is Content Marketing and SEO for Manufacturers and Industrial Companies? 
You probably know what SEO (Search Engine Optimization) means at this point.
And we hope you already know why SEO nowadays is all about the creation of high-quality industry specific content that adds real value instead of trying to manipulate Google. If you're not familiar with content marketing yet, we highly recommend you check out our ultimate guide for B2B content marketing + SEO checklist.
SEO for Manufacturing Companies, Industrial Companies, Engineering Businesses or just any other technical industry works quite similar as with other B2B services or products – but there are still some important differences to pay attention to. 
The Difference Between Paid Google Ads and Organic SEO Marketing for Industrial Companies
In order to get visibility on Google and appear in the first few slots of the search results for relevant queries, you basically have two options. You can invest in PPC (pay-per-click) ads using Google Ads, or you can have pages of your website rank in the organic search results for no cost (organic). Paid ads are usually less profitable long-term with a single click sometimes costing more than USD 20. 
We like to use this metaphor to explain the difference between organic and paid:
Advertising via Google Is Like Renting a Store – In order to get your store window in front of customers, you need to pay a lot of rent for a good location. Once you stop paying the rent – you'll get kicked out and nobody will find you.
Content Marketing Is Like Building Your Own Real Estate – Creating a strong website with content that ranks high on Google is a long-term investment – similar to buying and building your own real estate in the shopping street.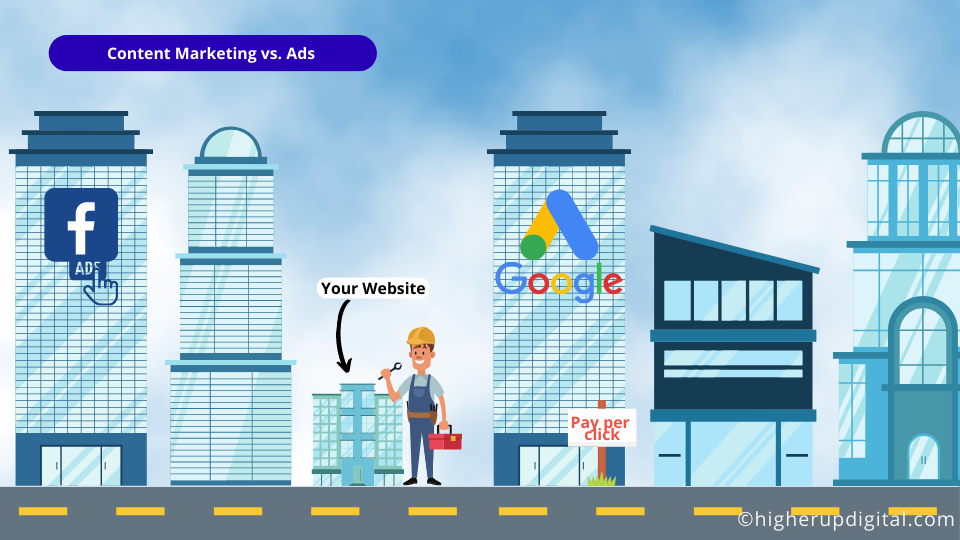 As you can see, creating a strong website with high-quality content marketing means building your own asset that your business can benefit from in multiple ways. We believe it's the best way to build a brand that attracts clients like a magnet.
More about the benefits later on in this guide. Let's talk about the challenges first.
SEO for Industrial Companies Is a Special Challenge
Some of your competitors might already have a blog on their website and maybe even post new blogposts regularly. From our experience though, most industrial companies lack quality of their website and content because they don't pay attention to their clients' needs – giving you a chance to out-rank them on Google. 
In an environment of complicated technical terms it's important to be the one to deliver solutions rather than complicated or boring resources that nobody reads.
These are some of the industrial SEO characteristics you need to pay attention to:
Less Competition But More Difficult Topic-Research – The hardest part in manufacturing SEO cases is finding the right topics and understanding which answers potential clients are really looking for. Do they prefer a general guide such as an introduction or rather advanced in-depth resources? 
Speaking Your Client's Language Is Key – Most tech-companies that decide to create their content in-house struggle with this. As an industry-insider you might want to impress clients and competitors by showing off your knowledge. From our experience, this is a big mistake. The majority of potential clients will look for simple, easy to consume guides that show your ability to help.
Become an Authority and a Client-Magnet – If you manage to show your prospects how you truly understand their needs, they'll recognize you as an authoritative industrial brand. This way you will become a client-magnet with prospects begging to buy from you. No hard-selling needed (nor recommended).
The B2B Content Marketing Agency with Proven Experience & Results
We practice what we preach! Running our own B2B platforms thought us what it really takes to get content marketing results. Learn more about our services and see how we can help you grow your industrial brand
The Top 4 Benefits of SEO & Content Marketing for Manufacturing Companies 
While word of mouth can bring you success with short-term sales measures, it's always limited to the manual work of you reaching out to other businesses. Visibility on Google search is one of the most powerful ways for industrial companies to generate inbound leads and build an authoritative brand in the long run. 
Here are our top 4 of the most impactful benefits:
 1. Sustainable and Cost-Effective Stream of Leads
Here is an example of one of our industrial clients that we've been doing a full relaunch for, optimizing the website structure, highlighting on the most important parts of their offer, simplifying everything and adding valuable guides to their blog. 

This Google Search Console screenshot shows their Google impressions within a 12 months range. After the initial website relaunch, Google immediately recognized the changes and over the following 6 months gave the website a heavy boost in reach – as well as lots of warm high-quality inbound leads. This was possible even without any link-building involved and only 2 in-depth guides per month created.
SEO traffic is sustainable and can deliver unrivaled long-term results. This is probably the main benefit and the reason why so many successful companies invest a big amount of their advertising spend in SEO and content marketing. 
It's often the most cost-efficient acquisition channel for industrial companies because one piece of new content can generate leads for you for years, while paid ads can be overly expensive and stop the moment you turn them off.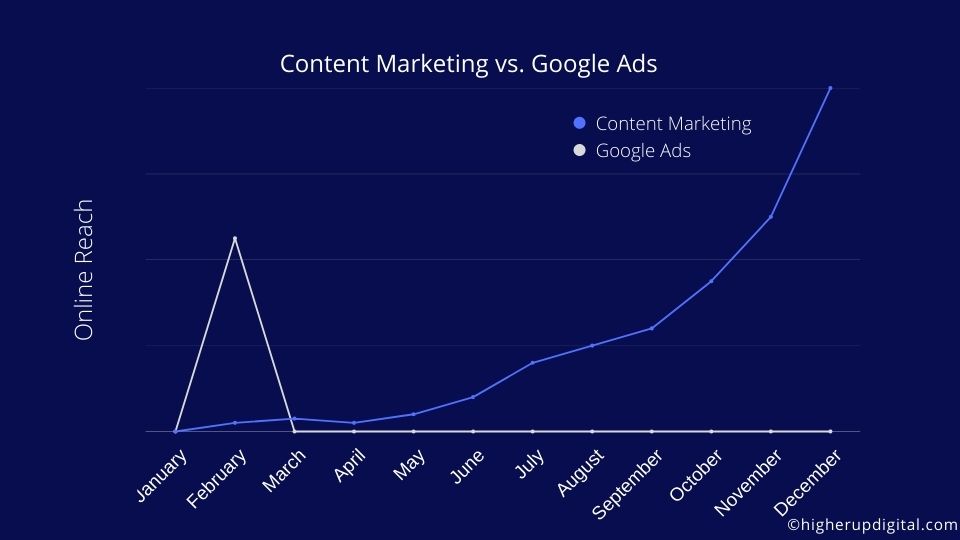 The graphic above illustrates the differences of running ads and ranking organically with content marketing using a theoretical example. Google Ads will show results immediately, but once the budget is used up, traffic decreases drastically. 
Content marketing on the other hand will take way more time to increase the traffic and rankings over time, showing its long lasting effects after 6 to 12 months. 
What does that mean for your business? Manufacturers that are willing to invest in their content marketing strategy today will benefit from it for years to come.
2. Prospects Will Recognize You as an Authority
This is a big one – and incredibly underrated. An increased amount of website visitors alone will usually not generate many inquiries for you, especially no warm high-quality leads. That's the real magic only real content marketing can do.
Imagine you're searching for a business solution and there's that one company providing easy to understand resources with real value on their website. Their entire website showcases their experience with easy to understand descriptions.
Now, why should you even look further? 
Leads generated through content marketing will perceive you as an authority and will already be willing to work with you – no pitches or closing needed!
3. The Sales Team Will Benefit From Your Website
For small to medium sized businesses that already got a sales team or external sales agents, content marketing can be used in a symbiosis from day 1 on.
Your sales team can surely confirm that new prospects always check out your website first. The first impression plays a big role, the second one even more.
Having a clear website with quality resources will support you gain the trust needed to close the deal. Your sales team can also use resources from the blog to send it out to prospects and nurture the relationships – preferably for long sales-cycles.
We also recommend sending out new blogpost announcements to your contact list via your CRM or newsletter tool using our B2B email newsletter template!
4. Increased Opportunity for Business Partnerships
Not only potential clients will see you as a thought-leader, other companies will definitely do so too – and maybe even your competitors. Many times we've seen that companies reach out for a partnership because they're impressed by a website.
Attracting businesses within your industry often leads to valuable connections and partnerships. As a provider of high quality content, you'll receive many additional partnership inquiries by companies willing to work with you and your brand – and even employees will always prefer to apply for a job at your company.
The Fundamental 3-Steps Guide for Manufacturing Companies' SEO Success
There are so many ways to improve your content marketing and industrial SEO success, thousands of software tools and there's always that one new technique that everyone's talking about. But at the end of the day, as always, the real winners are companies mastering the basics and optimizing for long-term success.
In a world full of distractions, it's more important than ever before to re-gain your focus on solid digital marketing measures that are proven to get results.
From our experience of generating thousands of B2B leads per month, it's all down to these 3 main factors of success:
Website Tech Optimization – Your website needs to be fast, lightweight and secure while having a contemporary design that appeals to potential clients. We recommend to keep the design as simple as possible to avoid distractions.
Website Structure & Content Optimization – Far more important than making the website "look nice" is to create a website structure that is easy to navigate and helps visitors understand what you have to offer and what the benefits are.
Ongoing Content Creation for Your Blog – Website creation is more or less a one-time job. Ongoing content creation, meaning coming up with new relevant topics and creating high-quality guides is what grows traffic, leads and revenue.
Don't get caught-up in perfectionism and endless ideas for improvement and focus on building a strong foundation to get maximum results. Let's jump right in:
1. Technical Website Setup & Optimization
Before you even get started with content marketing, you need to ensure your technical website setup is reliable, secure, fast and easy to manage. 
The most dangerous challenge here is that most web design agencies will simply follow your design instructions or even come up with their own design, without having any actual experience for your particular industry or B2B website design best practice in general. It took us +10 years to figure out what differentiates a truly successful website from one that generates no leads and doesn't convert at all. Check out our B2B web design services for industrial companies to learn more.
These are the technical requirements for a great industrial website:
Reliable Content Management System – Choose a reliable content management system. We mostly work with WordPress, as it's the most popular system worldwide and statistically provides the best SEO results. In order to have a WordPress website run fast and securely, plugins should be well chosen, use as few plugins as possible and invest in a top-notch hosting.
High Speed Hosting Provider – In order for your website to run fast and smoothly, which by the way is also a Google ranking factor, we recommend using a high speed hosting provider. If you want more information on this topic, we highly recommend to read our guide on hosting for B2B service provider websites.
Ongoing Maintenance and Optimization – We handle the ongoing website optimization for our clients since it's a never ending job that requires you to stay up-to-date with the latest tech-news. We constantly check alerts about vulnerable plugins, data leaks or new recommendations for better performing solutions. Once you stop optimizing your website, you're on the path to get left behind.
As you can see, the technical foundation of your website is as important as the design, the content and all further content marketing & SEO measures. We  recommend hiring a specialized service provider instead of doing it in-house and risking to get your website hacked or simply slow down your success.
Premium Web Design & Content Marketing for Industrial Brands
We Practice What We Preach Growing Our Own Leading B2B Brands. Learn more about our Services: Consulting, Web Design & SEO
2. Manufacturer Website Structure Optimization
When it comes to web design for manufacturers and industrial companies – it's definitely not about the actual design, as we've stated before. Not about the colors, not about fancy animations either. You're in an environment of clients that seek straight-forward solutions for their business and it's your main job to help prospects understand what it is you can offer  – and why they should choose to work with you.
That's why the website structure (page structure and navigation) as well as the copy for each subpage is what matters more than anything else. Google will also love you for keeping your website simple and easy to navigate.
These are the pages you should focus on, as they present your core offers:
Home: Introduction and Links to Other Main Pages
How often did you open a website and you simply did not figure out what it is they are offering? That's probably the biggest mistake you can do. And even fancy web design agencies do that mistake over and over again. Focus on a simple headline followed by a sub-headline to describe what your company offers. A great and proven formula is "(service) for (client niche) that helps them achieve (result)" 
Example: "(indoor navigation solutions) for (warehousing companies) that are looking to (increase their efficiency)" 
Try it out now – what does that formula for your business sound like? 
And that's exactly what you should put on your home page headline!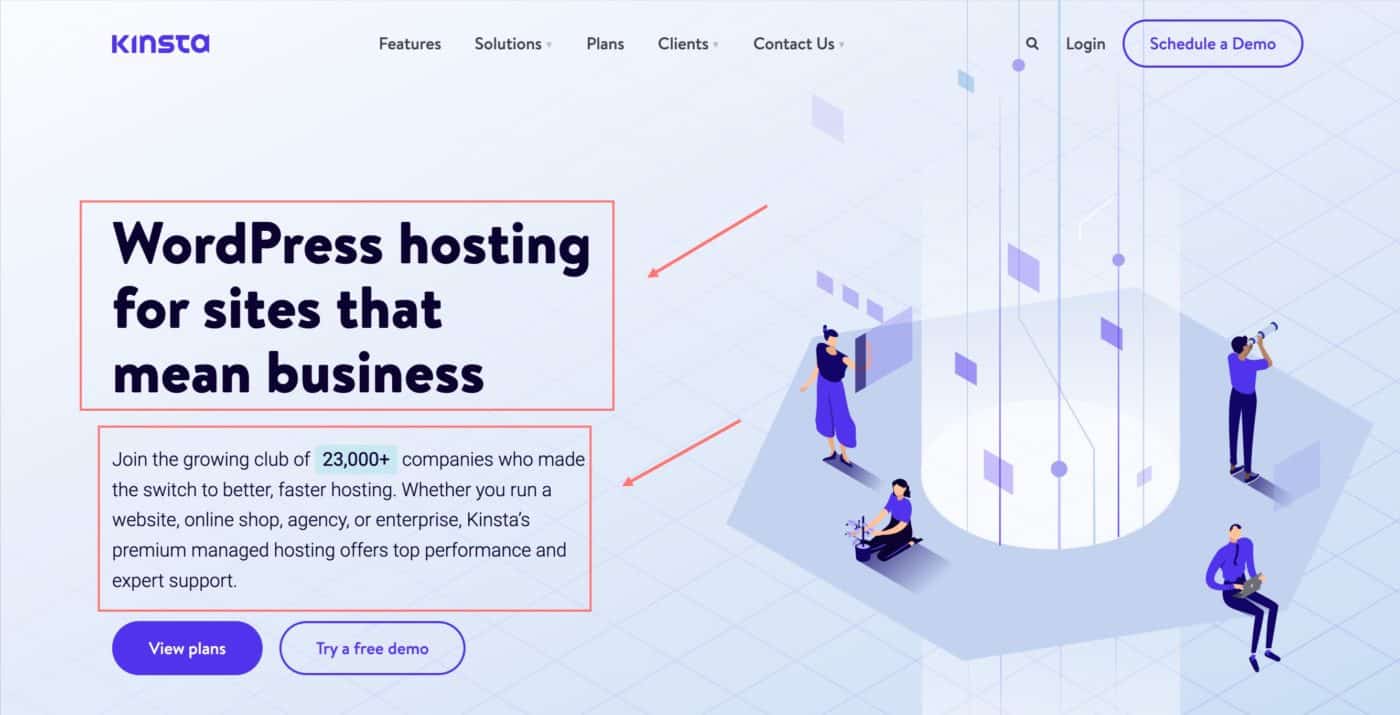 Further down below, the home page should list an overview with links to all other pages listed on your header navigation bar. Make sure it contains links to the services page, about page, blog archive page and include call-to-actions to fill out your contact form or schedule an appointment.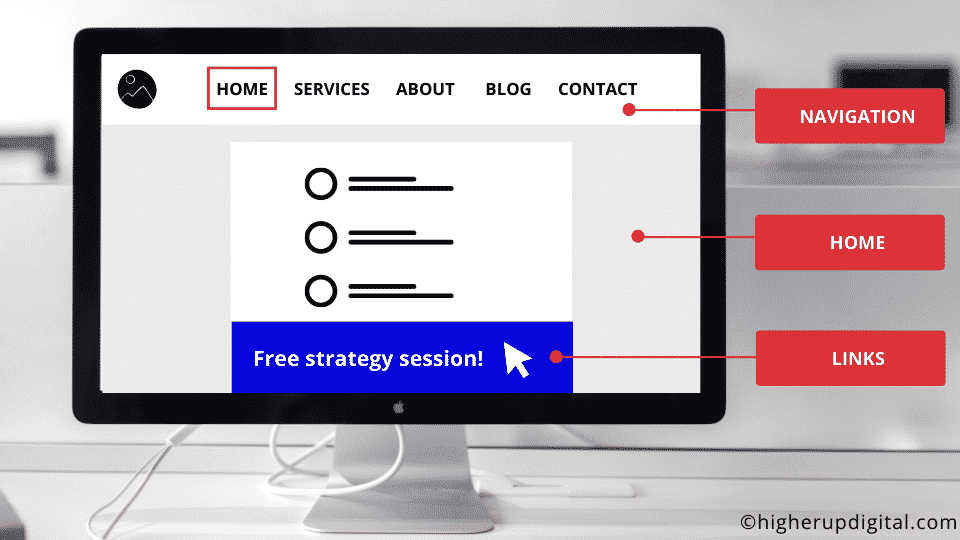 Services – Overview of Your Service Portfolio
The services overview page should list all of the industrial services you provide including a short description for each service and a link to each service-subpage. We recommend using single service pages – one page per service. 
This way you can link from blog posts to single service pages. Your manufacturing clients will be able to easily navigate to the service they're interested in, read the service and benefits description without any distractions.
About Page – Team, Mission & Value Proposition 
The about page is one of the most important pages. Statistically, most new visitors want to find out who's behind the company and who the people they are doing business with are! We recommend focussing on two elements of your introduction:
The Mission – Why does your business exist, what problem does it solve? And
The Benefits – Where does your expertise from? What sets you apart?
We also highly recommend to show your team members, at least the CEO or management board. Don't forget: People do business with people, and sympathy is still one of the major decision-making factors.
Blog – The Archive Page for Your Lates Posts
The blog page usually consists of an archive of your recent posts in a chronological order. Most website visitors will come through one of your blogposts and then usually not read more posts but rather navigate to the home, about or services pages. Still, it's important to make the archive page look clear so everyone can see you're delivering value and investing in your marketing consistently.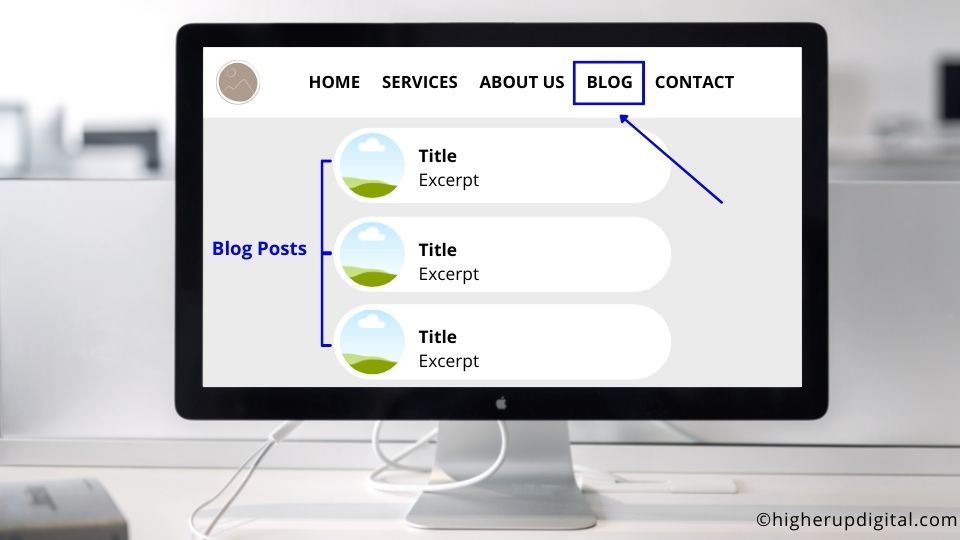 Contact Page – Remove Friction for Your Prospects
All your efforts of building a great-performing website are worthless if you don't have a proper contact form on your website. You wouldn't believe how many times we've seen forms that didn't even work properly! So make sure to test yours – not only once, but on a regular basis, because plugin-updates might crash the form functionality. Besides that, you should make sure it's easy to use and you're only asking the questions that are needed from your end to respond to an inquiry.
Additionally we definitely recommend adding a calendar-tool like Calendly to your website which makes it easy for prospects to schedule a meeting with you right away. On the other hand, this will help you prepare for the meeting. Check out the other software tools we recommend you to use for your B2B service business.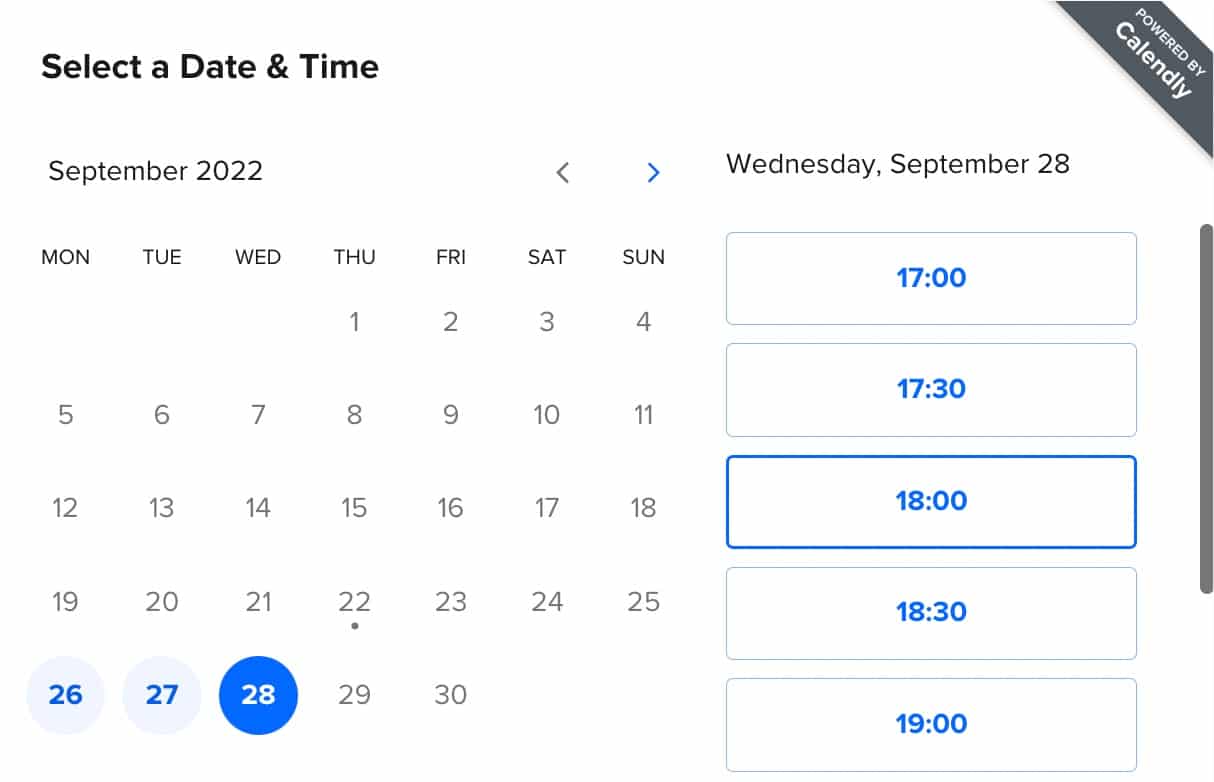 3. Content Creation & SEO for Manufacturers
As we like to say: The "static" website includes the technical setup, website structure and optimized copy including in-detail description of your services.l
After that's done properly – this is when the real work starts: Ongoing content-creation. We recommend creating at least 2 high quality in-depth guides per month.
This is our proven standard procedure which we recommend for solid results. 
According to several sources we've compared, around 7 million blogposts are published every single day! And 99,99% of these will probably never get any traffic.
That's why delivering real quality and real value means everything. You can get more results out of 1 quality post per month than 200 low quality blogposts per day!
So what makes a high quality blogpost? It starts with the analysis of your audience.
Analysis of Your Industrial Target Audience & Competitors
Before even getting into topic and keyword research, we always start with the client persona and competitor research. Your content can only resonate with your ideal clients if you know two things about your prospects:
What are their problems and interests that they want you to solve?
What other websites do they visit and will compare your company with?
Painting a vivid picture of your potential clients is usually easy, you only need to talk to your sales team or someone who is in touch with clients regularly.
For the (online) competitor research, simply search for a few terms on Google that your potential clients would use to search for your service. Try to view the Top 10 competitors through your client's perspective. Are they used to read complicated technical documentation or are they seeking easy to understand solutions?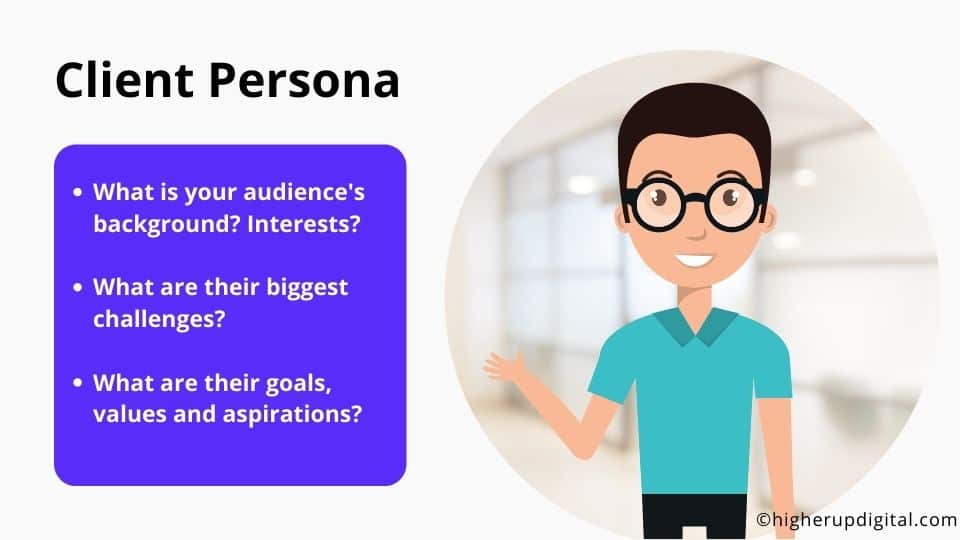 Research of Relevant Topics for Manufacturing Companies
After you have clearly defined your target audience and noted who you're speaking to and what language they use, head over to the next step: Topic research.
Before getting into keyword-research for finding the right terms to rank on Google, we start out by finding a topic such as a certain field of service or products which you offer. Since our end-goal is to generate customers, we need to focus on relevancy more than anything else. Relevancy means the topic needs to be:
Relevant to Your Target Audience – Use the Google search for topics that are relevant to your customers and their industries. If you offer warehousing solutions, topic examples could be "ecommerce warehousing" or "order fulfillment". Related topics could also be "delivery" or "pallets" – but does it make sense to build reach around these? That's the second important part of relevancy.
Relevant to Your Service or Product Portfolio – As stated above, a topic that you're looking to build reach and awareness for should not only be relevant to your clients, but also your own business! Avoid tapping too far into topics that are only slightly relevant and focus on the terms that will actually generate revenue.
For the initial brainstorming of your first 10 Blogpost topics we recommend opening up a Google Sheet and filtering the topics that you've found by relevancy for your business. Give them a rating from 0-3 with 0 being absolutely irrelevant and 3 being a spot-on topic that clients are interested in and you can highly benefit from.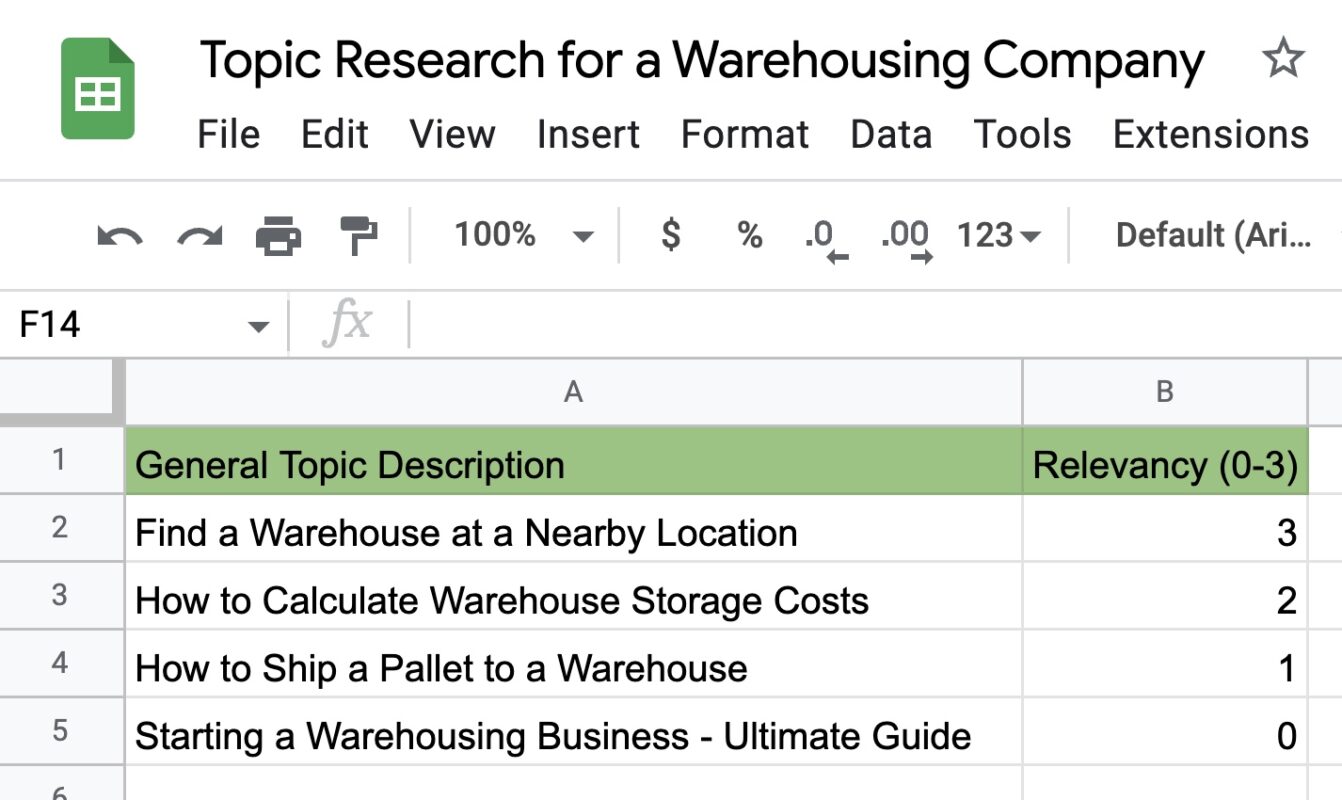 To verify if a topic is worth writing about you should make sure that people are actually searching for that keyword. Especially in the industrial environment, solutions can be so unique or also hard to describe that you really need to put in some time googling similar topics until you even find the right terms to describe it.
You could also have a look at other search suggestions Google is displaying in the "related searches" located on the bottom of the search results page. If you can not find anything, it's often a sign there is no relevant search volume. 
When dealing with more popular keywords that have a lot of competition though, you can use a keyword research tool like ubersuggest.com or ahrefs.com in order to pick the terms that are more popular and frequently used.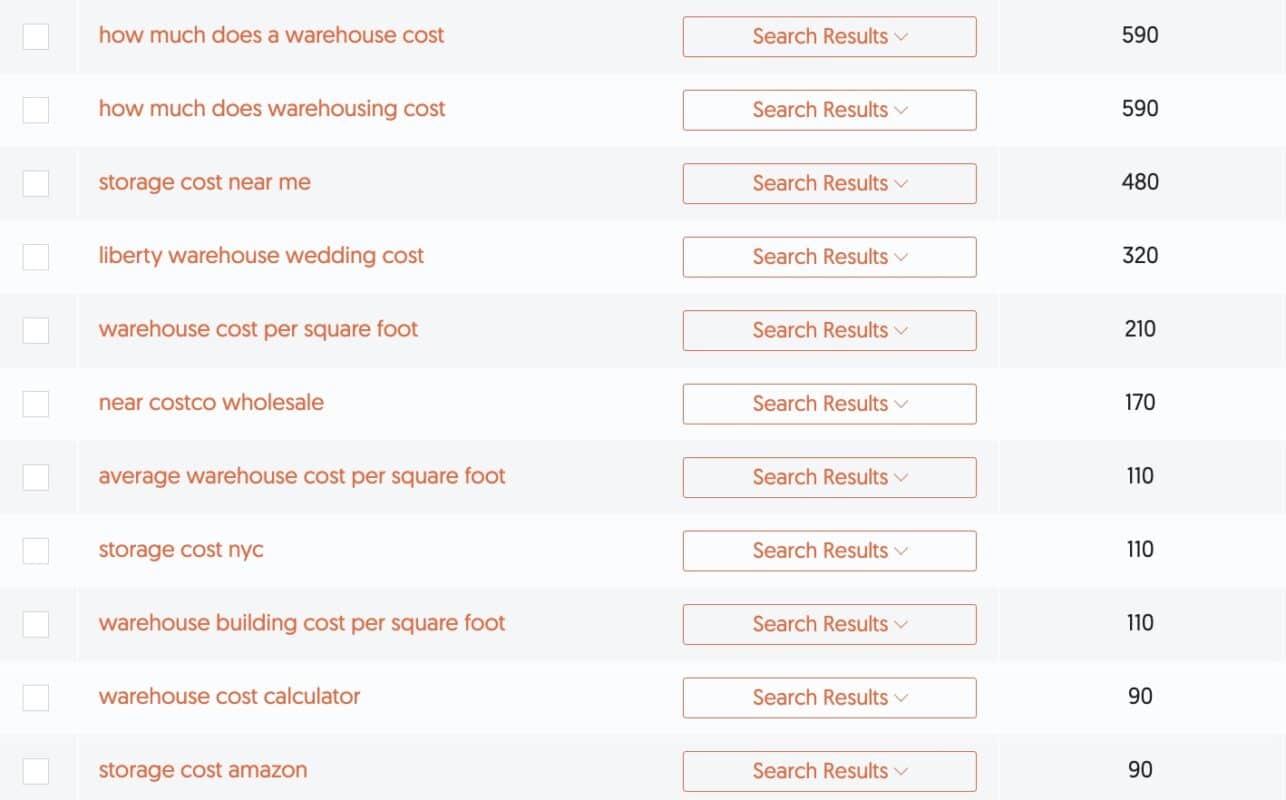 Creation of High Quality Content for Industrial Companies
Let's get down to the nitty gritty. At the end of the day, someone needs to do the heavy lifting. Writing great content that is easy to read, helpful and optimized for Google ist just a lot of work. Period. Even for highly trained content creation experts like us it takes time, blood, sweat and tears to come up with high-quality content.
The ingredients for a successful blogpost are:
Engaging Headlines – As most readers only skim through a blog post and do not read it completely, engaging headlines are important. Keep them short, try to use your keywords and synonyms in the title to support the initial Google indexing.
The Intro Pitch – In the industrial sales environment, most of your website's visitors are not here for pleasure but for work. Hence, people's attention span is short and they need to know right away why they should read your blogpost. That's why the title as well as the first paragraphs are extremely important. You need to give the reader an overview of the content as well as the outcome. That's what we call "The Intro Pitch". Example: "After reading this guide you will know how to…"
Call-to-Actions – Once a website visitor starts reading your guide, they might not even know who you are and what you have to offer. That's why you always need to make sure to include several call-to-actions to your content in between and especially at the end. Make it as easy as possible for the reader to learn what you offer and why they should reach out now. Add links to your contact page!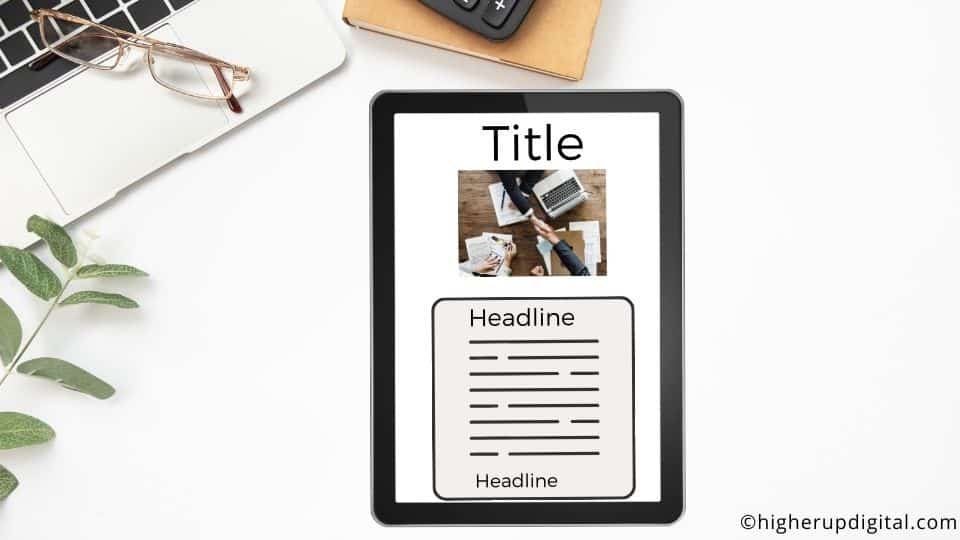 Types of B2B Content that Are Engaging and Get Traffic
Statistically there are certain content types or structures that are attractive and get higher click rates on Google search. These are:
The Ultimate Guide – A classic that you're probably familiar with: "The Ultimate Guide". It immediately states that it's an in-depth guide and people just love that. This type is usually a comprehensive guide, covering a topic very detailed.
The Step-by-Step Guide

 – Explaining a topic like "How to Reduce Your Production Cost Following these 5 Steps" sounds logic and is just teasing. This style follows a step-by-step structure usually working with a numbered list for explanation.

The List Post – The list post, usually containing a number has one of the highest click-rates! Example: "The Top 15 Best CRM Software Solutions for SME's". List posts usually collect information and provide value in showcasing a summary.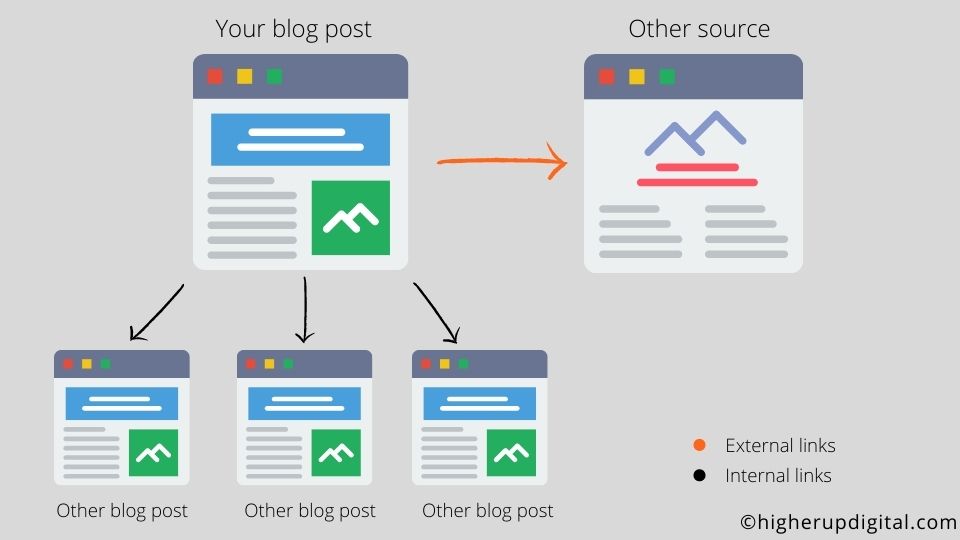 Internal & External Link Building for Faster SEO Success
Links still play an important role in SEO and external websites linking to your website used to be the most important ranking factor. While today, Google pays more attention to the user signals and their interaction with your content and website, links can still boost your ranking results as well as the overall user experience.
Building backlinks, meaning incoming links from other websites is a tough job that takes time. Building internal links on the other hands is highly effective as well and you can do it without asking (or paying) any other party. A real low hanging fruit.
As you can see in the graphic above, there are two ways you can link. You can either link in between blogposts or you can link to your service pages, and you can link to external sources, meaning other websites. We recommend placing 2-5 links per blogpost to other websites that are authoritative and just add value to your content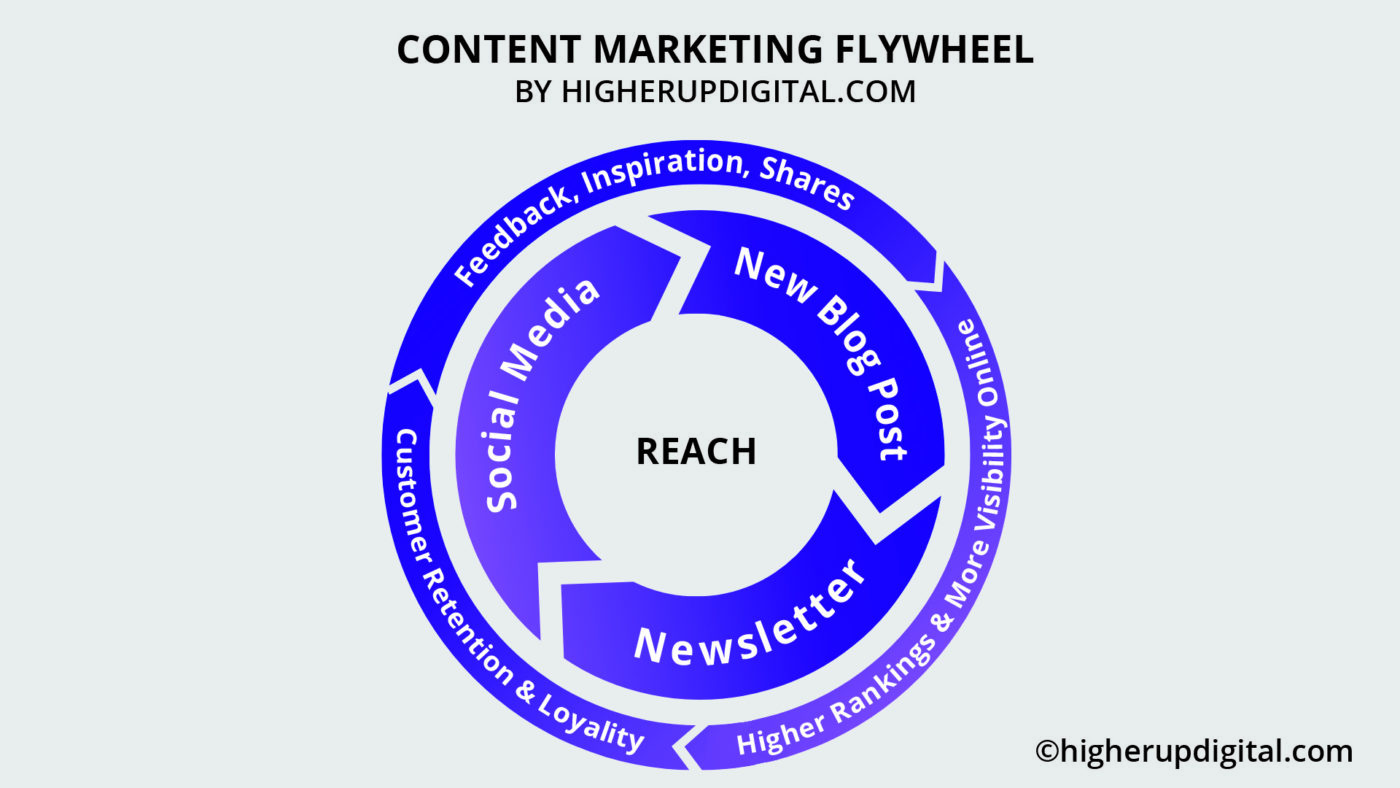 Content Distribution via Newsletter & Social Media 
After you've published a new piece of content that you're proud of, it's time to get the word out. Sharing new content to your newsletter list as well as your social media pages will show your audience that your business is alive and you're doing well.
New content posted on social media leads to new followers too, and they can also give you feedback which you can use to find further topics to write about. You get the idea. If done right, this cycle of new blogpost > newsletter > social media post can repeatedly lead to a flywheel effect of building momentum and making you become a real authority in your industry. All it takes is a commitment.
Industrial Web Design and Content Marketing for Leading Brands
Building Industry Leading Websites for Manufacturing Brands, Generating Thousands of Inbound Leads - We Know Exactly How to Get Results
Conclusion – Grow Your Website Traffic, Generate Leads & Build a Strong Brand
As you can see, the technical foundation, structure and content for a successful industrial brand is very similar to any other B2B business website. At the end of the day, your clients are seeking solutions for their business needs and it's your job to make clear that your business is the right pick for them. 
Focusing too much on technical details, showing off your tech know how or trying to be too creative or unique might destroy your actual goal of growing your reach.
Build a strong foundation by optimizing your website for simplicity, clear structure and service descriptions showcasing technical details but also their benefits.
We've built hundreds of successful pages for our own businesses as well as our clients, generating thousands of inbound leads. Benefit from our ever improving templates and insights that can help you become an authority in your industry.
Because a clear brand needs a clear website with valuable content on it.
Let's Talk! Get a Free Assessment of Your Digital Marketing Strategy and the State of Your Website
We offer a free strategy session to find out if we're a match. We guarantee: No hard pitches or sales and you'll definitely benefit from our analysis of your website, laying down practical to-do's for you, no matter if we'll eventually partner up or not.
What makes us special? We're focused on mastering the foundational basics instead of jumping back and forth from hyped marketing trends. 
High-quality content, proven results and long-term partnerships. Contact us now!