Gone are the days where newsletters packed with advertisements were successful. 
Be honest, do you open newsletters? We certainly don't. It comes as no surprise that classic newsletters, no matter the industry, have average open rates below 20%.
But we do open emails every day, because that still is our main tool of communication. 
That's why marketing mails you are sending should look just like normal, short, and straight to the point messages. Ideally, the receipient shouldn't even be aware your mail is a marketing email.
Many of the best B2B marketing companies in the world do a great job at email marketing, achieving open rates at over 50% and even more importantly, click rates above 15%. 
In this short post we'll tell you what their secret is and how it makes email marketing even more fun and less complicated. After reading this simple step-by-step guide you'll know how to grow your own list and use B2B email Marketing to get more clients – without annoying anyone. 
What Is B2B Email Marketing and What Should You Even Use It For?
B2B email marketing is a very broad term. It basically includes all sorts of cold-mailing, direct outreach and newsletter strategies. In this post we're going to focus on the absolute essentials that are important to every B2B business.
Initially, we need to think about what the desired result of our newsletter marketing efforts should be. From our experience, many businesses send newsletters on a regular basis without even having an objective in mind – they just do it because everyone's doing it. And of course, they are not seeing any results at all.
B2B Email Marketing – The 3 Main Objectives
There are so many things you could use newsletters for – we boiled down the 3 most important objectives that you should definitely focus on:
Strengthen the Relationship with Your Audience – If done right, every mail to your newsletter list will strengthen the connection with your clients and followers instead of annoy them with pointless advertisements.
Promote New Offers and Generate Leads/Clients – If you have something new to offer, for example products or services that your list could be interested in, you should let them know! Being honest and straight forward works wonders in emails.
Using it as a Tool for New Content Promotion – Sharing a new post on your blog with your clients and subscribers, providing nothing but value for free, is the ultimate lever. Later in this post you'll see how that works exactly.
All of these three objectives are very important for any healthy B2B business growth. Mastering these measures will have a tremendous effect on your company in the long run. Later in this post we'll tell you how to do it in the easiest way possible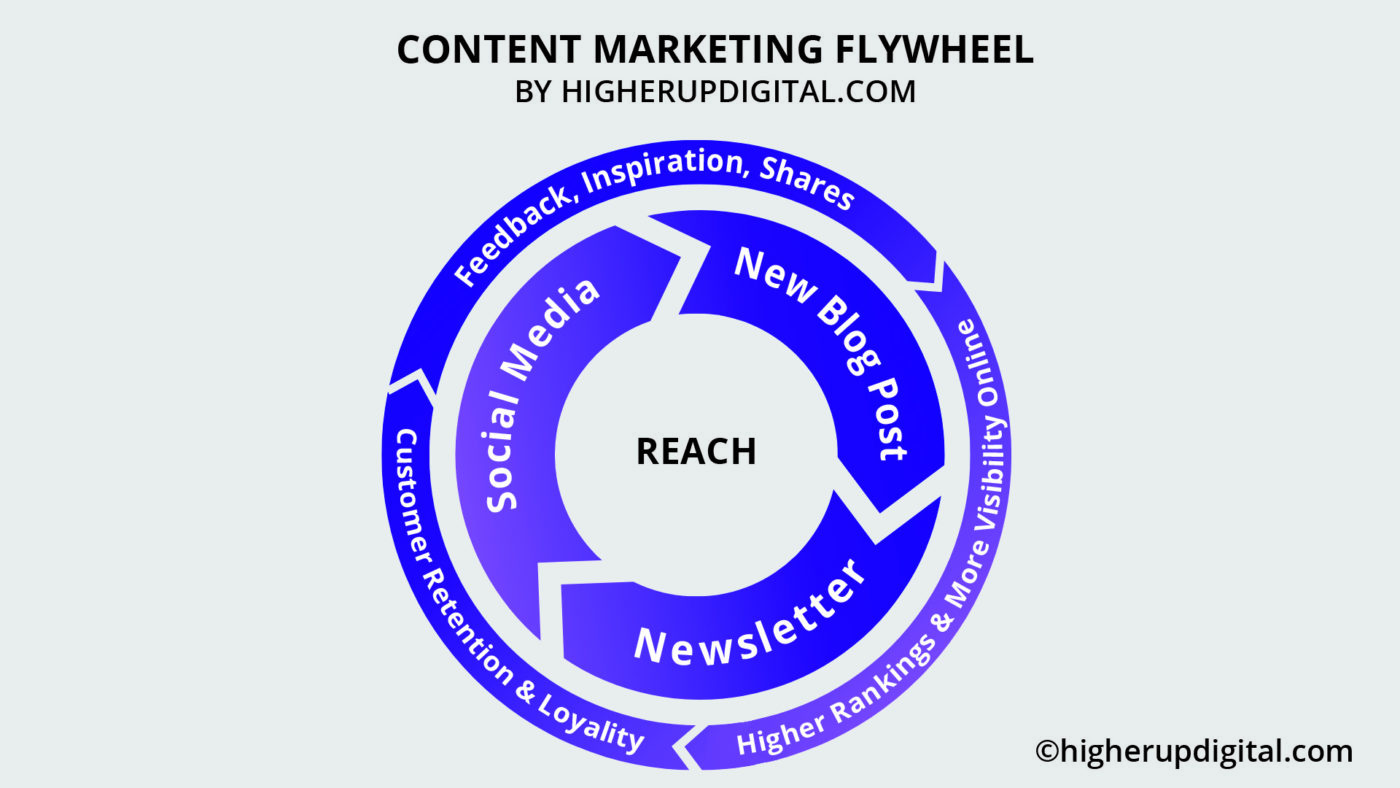 Newsletters Support Your B2B Brandbuilding
Any mail that you send, for example in order to promote a new post on your blog as a part of your B2B content marketing strategy, will support the overall success of your digital marketing measures.
A brief newsletter promoting a new post on your blog might lead to social media shares, more people searching for your business on Google – many of the effects are not visible at first glance but have strong symbiosis effects for your reach.
Your Digital B2B Marketing Agency
We help B2B service providers build a strong brand and increase their sales. Create your sustainable stream of new clients and become a well-known authority in your market.
B2B Email Marketing Strategy - How to Start Building Your Own Newsletter List
Your B2B email marketing strategy should start with the email and contact collection process to gain subscribers for your list. It's important to keep in mind that the amount of subscribers is not relevant! At the end it all comes down to the quality of your list, meaning who the contacts are and why they signed up.
Would you rather have a list of 1000 random people or 20 potential buyers?
2 Main Ways to Grow Your Email Subscriber List 
Building your own mailing list without buying leads is always the best option. Every contact on your list should have heard from you or should've had any form of contact with you at some point. Otherwise, chances are they'll mark you as spam right away.
Two simple ways how every business having a website can start collecting emails:
Website Contact Form – This is the most simple way to add new contacts to your B2B mailing list. Start collecting the addresses from inquiries to your website. Prospects reaching out through the contact form have already shown interest and can be considered valuable subscribers that might turn into clients.
Lead Magnet on Your Website – An even more advanced method to collect email addresses through your website is to place lead magnets within your website's blog content. Most email marketing tools will make it very easy to create an embedding form that you can place within a blog post on your website.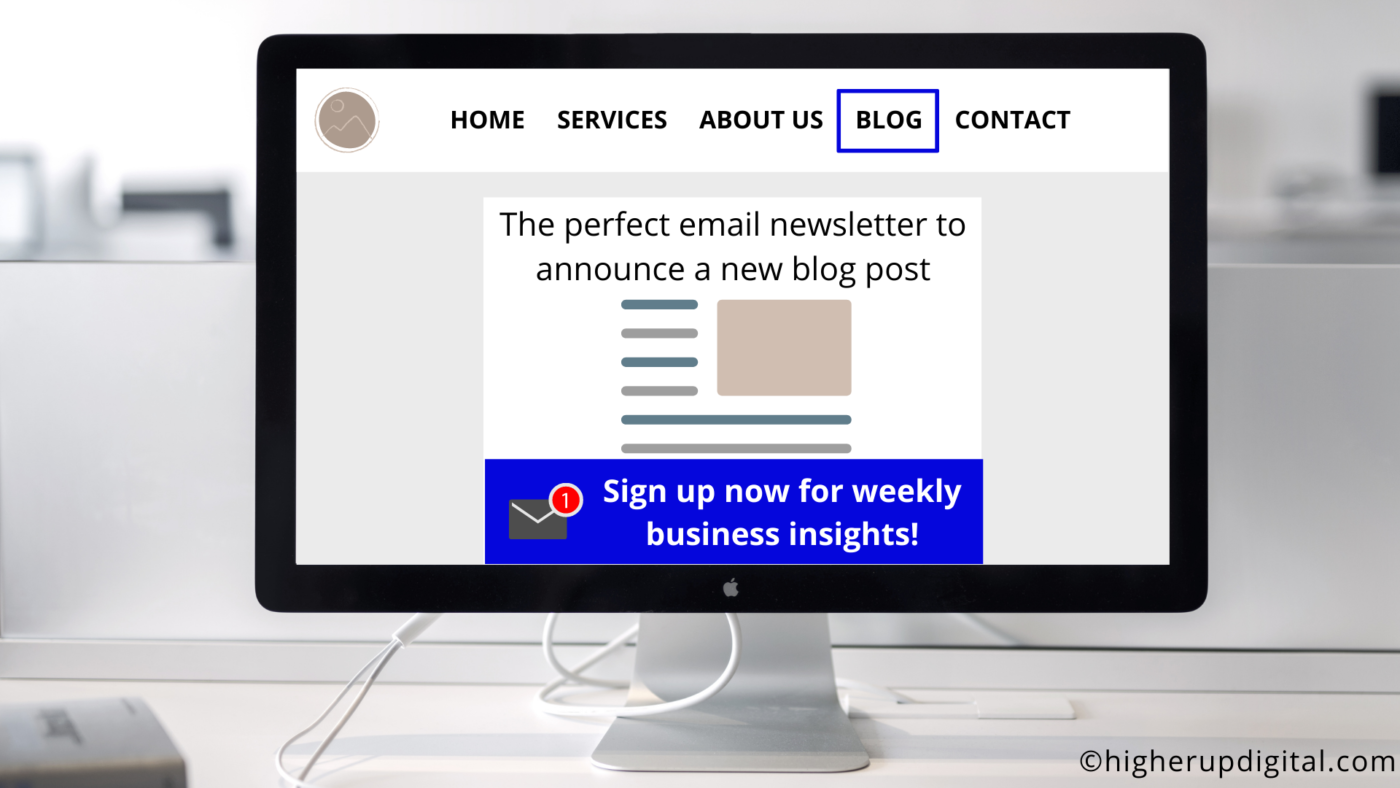 Of course, before successfully collecting emails through your website, you should have a certain amount of traffic already which you can generate through optimizing your website and creating content in the form of industry-specific guides that rank high on Google. If that's the case already, you should definitely create a simple lead magnet to increase your subscriber list growth.
Creating a Highly Attractive Lead Magnet 
The secret of creating a lead magnet is finding out what your clients really want and need. In the B2B industry, it will certainly help to think about the things that clients most often request.
Do they have certain questions that you've heard come up over and over again? These are the topics that your lead magnet should be about. It could be a short PDF e-book, a checklist or a cheatsheet or template providing value to your clients.
The Best Email Marketing Tools - And Why Keeping it as Simple as Possible Is Key
For easy list building, providing an unsubscribe option and an easy way to send out emails, we recommend to get a professional email newsletter tool. Right now there are hundreds of options to chose from and you could spend weeks and months comparing their never ending features.
You Don't Need 99% of the B2B Email Tool Features
From our experience, 99% of businesses do not use any of those features and those who try get caught up in overwhelming technical difficulties. Tags, follow-up sequences based on certain click rules…These are features that the biggest companies in the world with millions of subscribers use – who also have a dedicated email marketing team of employees. 
For most small to medium sized businesses though it's way more important to actually get going, send emails and make that as simple as possible – so you will need only the most basic features anyways which all of the tools provide.
Pick One of the Industry Leading Newsletter Tools
Some of the most popular names are especially easy to integrate into WordPress websites and since this is what we use to build websites, we will recommend these tools.
To name a few, these are our favourite ones:
Aweber, ActiveCampaign and the tool that we use ourselves: GetResponse.
All of these tools provide easy embedding into WordPress websites and page builders, simple list management and an email editor for easy newsletter creation.
We Provide Content Marketing & SEO Services For Your B2B Company
We provide all services and resources you need to grow your B2B business online. Strategy, Webdesign, Content Creation.
The Top 3 Most Important Factors of B2B Newsletter Marketing Success
Times change and so does B2B email marketing. Changing the approach to newsletters is what really matters in order to get results. We summarized the top 5 most important factors for success.
1. Don't Send Your Newsletters in a Fixed Schedule
Sending newsletters every week or every month at the exact same day, always containing the same kind of content will make your clients literally blind for your emails – since they already know what to expect.
The key to higher open rates is sending mails irregularly and only when you actually have something to say or want your subscribers to see something. For example a new post on your blog, a new service or solution you offer or just any industry relevant news. This way your subscribers will remember that every time they receive an email for you, it's actually something interesting.
2. Focus on One CTA Per Newsletter Mail
Email open rates and especially click rates are already low. Further down in this post we will exactly show you how to increase open rates. But increasing the click rate is even more easy:
Stick to one Call-to-Action only – and let your subscribers know exactly what to expect after clicking and why they should do it.
"We created a new step-by-step guide on B2B email marketing on our blog for you. It's a 5 minute read only and we'll share simple tipps with you on how to succeed with your newsletters. Click here to see the guide >>"
This way, people know exactly what to expect and why they should click on the link. If you've got multiple messages to share, split it up and make separate newsletters.
3. Keep it as Short and Simple as Possible
Don't use fancy layouts, don't include any images, no buttons, nothing. Not only will it make creation of new mails much easier but it will have even more effects that are highly beneficial for you.
Not using any design templates, buttons, images etc. will make your mail look just like a normal, plain email and not like an advertisement – increasing the chances your subscribers are going to read it. The other huge benefit is that mails with any sort of templates or images have usually much lower delivery-rates and are displayed inconsistently in different email programs.
Read on to see how your next newsletter mail could look like.
The Ultimate B2B Email Marketing Template for High Open- and Click Rates
Use this template to make your newsletters easier to setup, create and send – by following the formula of "Subject, Pitch, Call to Action".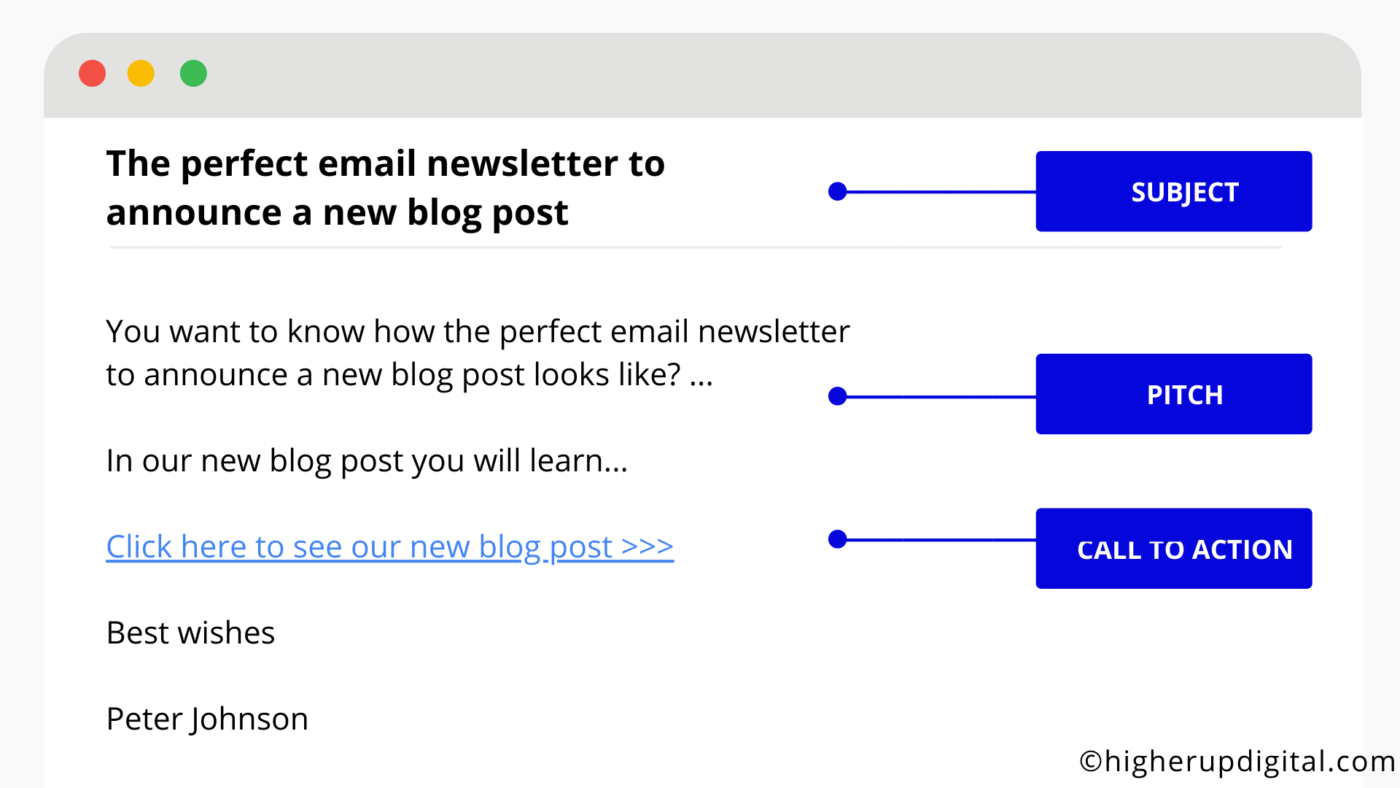 Subject – What Is Your New Blog Post About
The subject plays a big role in deciding whether an email will be opened or not. It should be well thought through and let the recipient know what the email is about. After all, if the subject isn't interesting, the email won't be opened. Keep in mind that some email clients only show a shortened part of the title.
Pitch – What to Expect & Benefits
Get straight to the point. Start by explaining what this mail is about in a few sentences. Then explain what's in for the reader. In a new post, your subscribers will most likely learn something that will make their life easier or make them more money. 
One Call to Action Only – One Link Only
As mentioned before, the golden rule is to only have one call to action and one link only to make it as easy to understand as possible. The link should be blue and underlined to make it as clear as possible that this is the only clickable element.
Increase Your Website Traffic Now
Attracting new clients via high-quality content is the best and most sustainable way to grow your B2B business.
Conclusion - The B2B Newsletter Secret Is to Keep it as Simple as Possible
The summary of this guide is that successful newsletter mails are actually not newsletters but normal emails, looking like any other email. The key is to keep everything as simple as possible to increase delivery rate, open rate, click rate – and also the likelihood of you actually sending emails.
Because this concept is so much easier to manage, mails are easier to create and it's just easier to get the job done, chances are much higher you will be really doing it. And that is what matters the most.
One of the biggest dangers in the digital marketing area is to lose your focus and get caught in endless tool and feature comparison, all of them promising to be your absolute break-through. The opposite is the case though. The more tools and marketing measures you use, the harder it will be for you to get anything done and delude your results completely. We help our clients re-gain the focus on the most important measures so they can get actual results.
We offer personal B2B digital marketing consulting, B2B webdesign, B2B content marketing & SEO services for our clients.
If you are looking to grow your reach, get more clients for your B2B business and simplify your overall digital marketing, we'd love to talk to you.