"Digitization" and "digital transformation" have been popular buzzwords for many years now. Most people only talk about it but never take action.
This simple guide will show you our top 6 software tools that we use every day – and recommend every small to medium sized business to do so, too!
We categorize digitization into two fields:
Internal Digitization – Your internal workflows and business management such as collaboration within teams or with partners, meetings, cloud data storage, etc.
External Digitization – All of your digital activities aiming to acquire more customers or clients like webdesign, content marketing & SEO or running ads.
In this guide, we will focus on internal digitization, which builds the foundation of your business and the administration. To keep this post short and fun to read, we kept it as simple as possible, only naming the most important tools as well as their most important features. Let's get started.
Digitization and Digital Transformation for Small Businesses - What Does It Mean?
As mentioned above, digitization is more than just a buzzword. It simply means using software to help you run your business more efficiently to save costs and make more money. Ideally, will also make work more fun and help you gain clarity as well.
The 6 tools that we are going to recommend in this post are the industry leaders within their field. We generally only use the best tools out there and recommend our clients to do so as well. Going with the best and most popular tools has many benefits. They are frequently updated, further developed and chances are high they will continue to be available for a very long time. 
Using unknown tools from new, small companies can work just as well but the risk of them not getting updated in the future is just higher. Learning how to properly use software tools takes time and effort and that's why we want to carefully chose – and then stick with our choice over a long period of time.
Working with the best tools and learning how to master them builds the foundation for every successful business that wants to digitize. All of the tools mentioned are cloud-based, meaning they can be accessed with your web browser.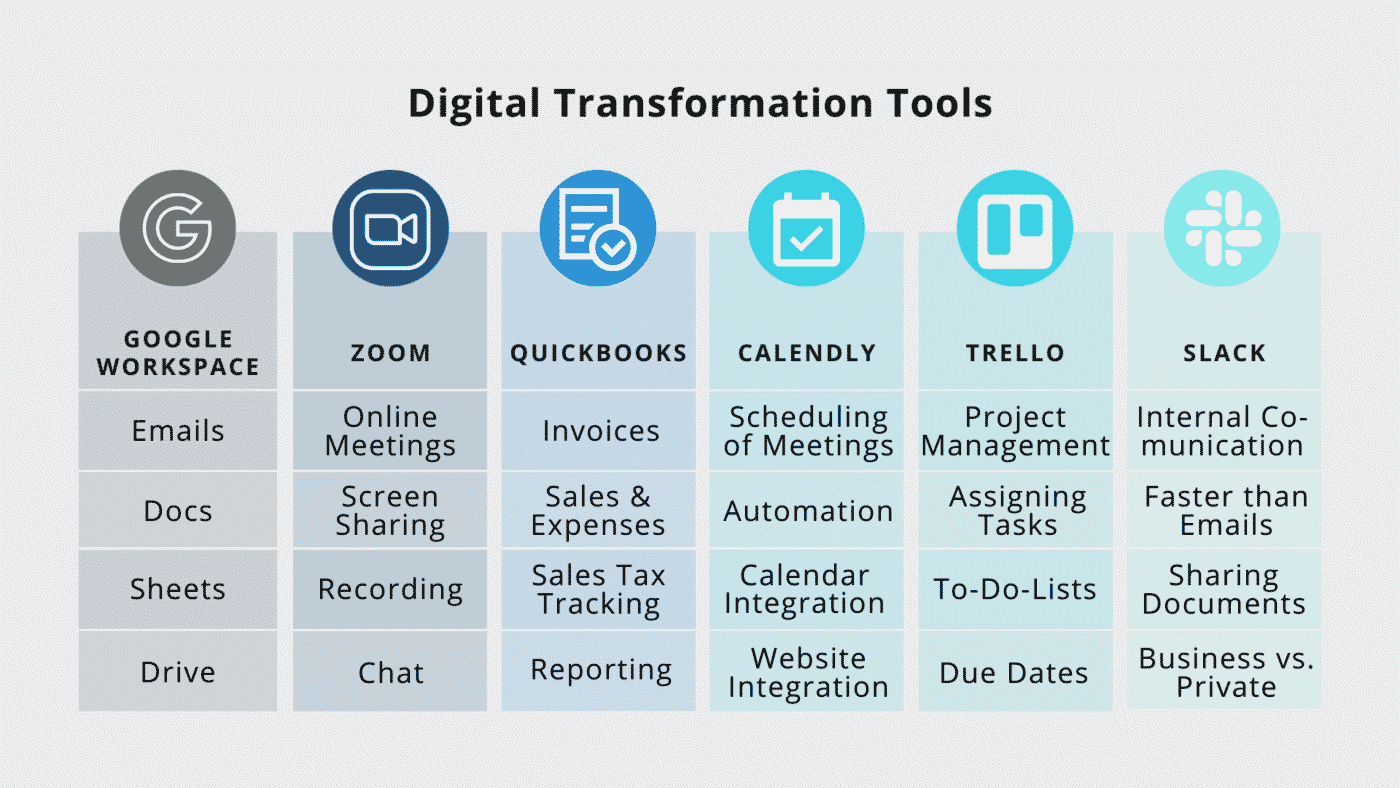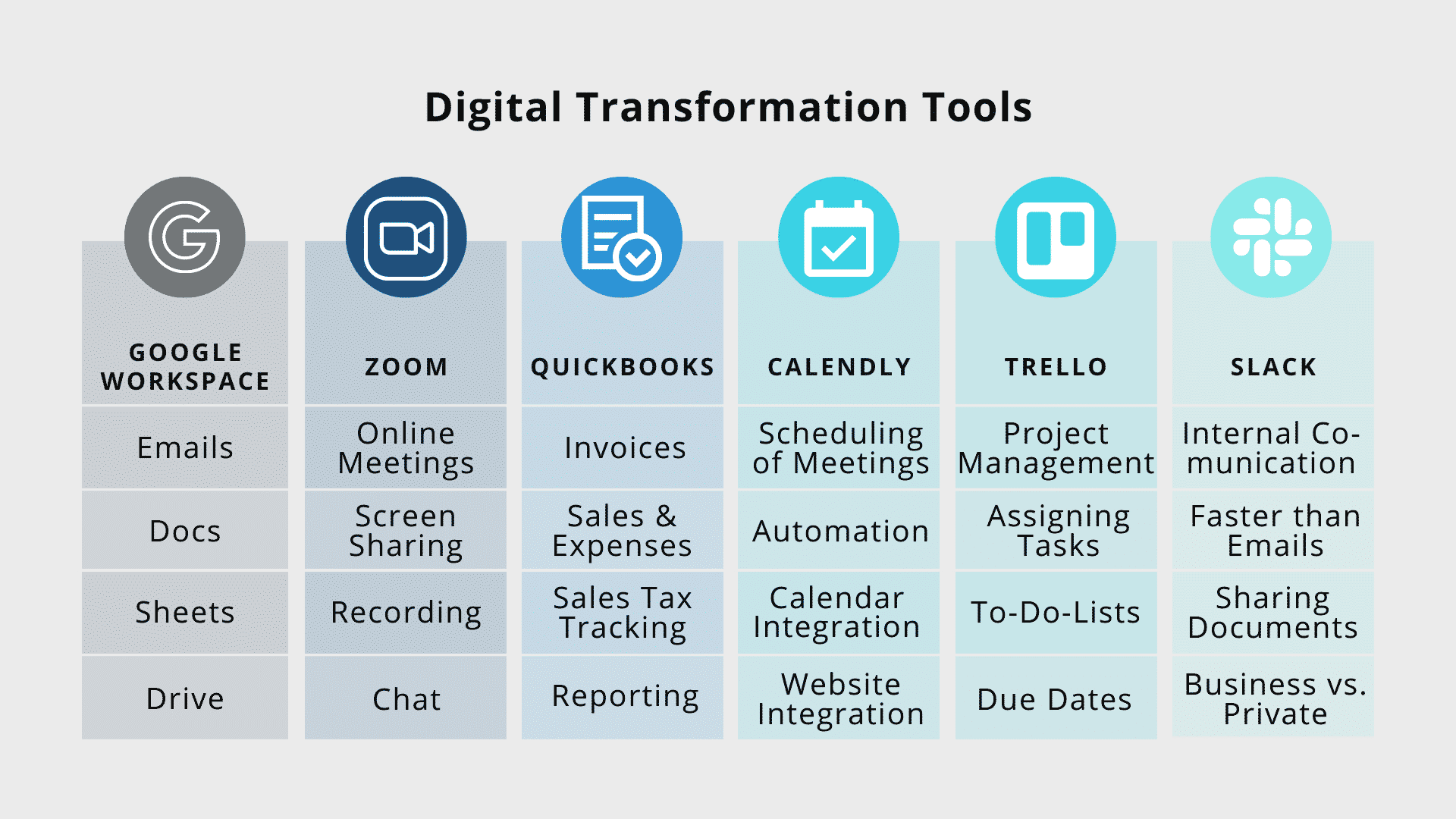 Google Workspace: Emails, Calendar, Drive, Docs, Sheets and Presentations
Let's start with Google Workspace (formerly Google GSuite) which is an alternative to the also popular Microsoft Office 365. 
In summary – these are the most important features:
Google Mail – Gmail is one of the fastest services with a huge user base. It's the leading browser-based email tool. After adding your domain you can add your personal [email protected] email address.
Google Calendar – It's one of the most widely used, browser-based calendars.
Google Drive

–

Create a folder structure to store all your relevant documents and files. You can share access to folders or files with your colleagues or clients.
Office Software Tools

–

Included with Google Drive is a full set of office software tools like Google Docs, Google Sheets or Google Slides for Presentation. We love them because they are browser based, easy to use and offer all features that you need. You can collaborate and even see edits of other people – live!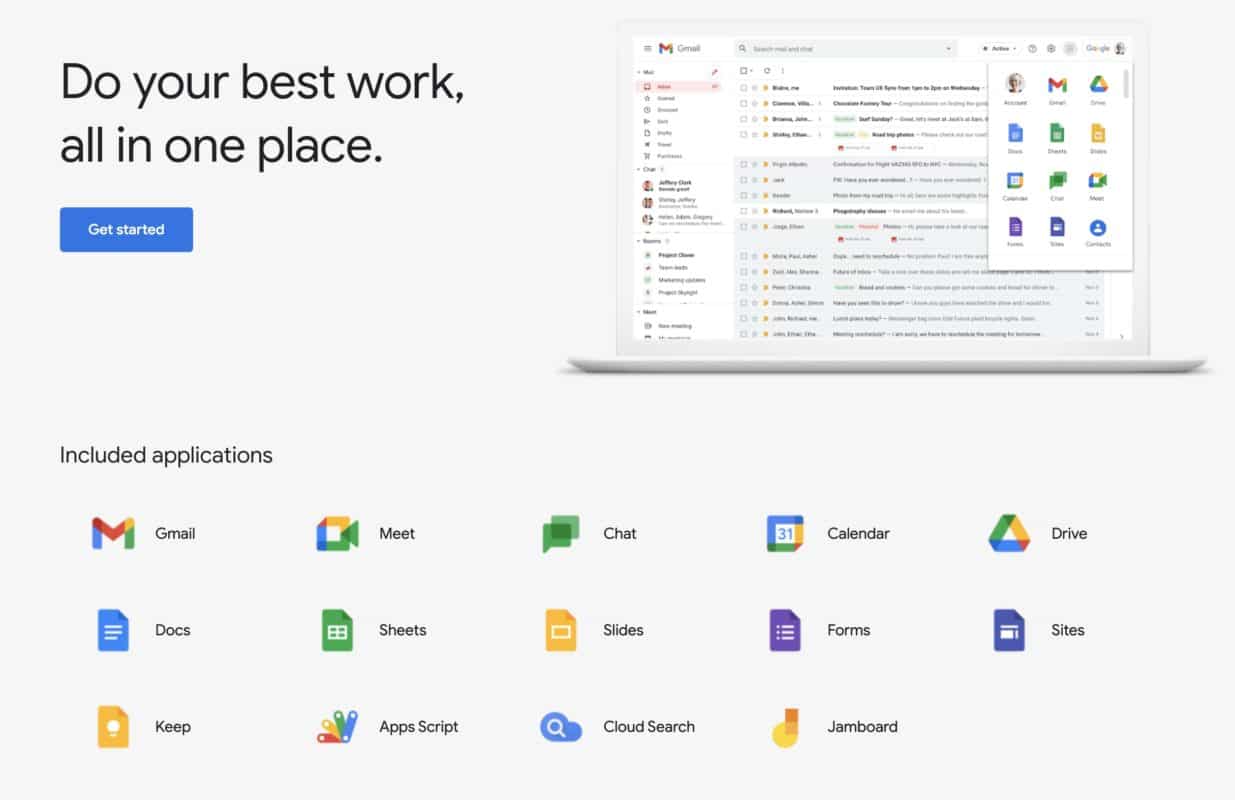 Daily Backups for Google Drive – Your Insurance
Storing your files on a Drive is even more secure than storing them locally. Google Data centers are upon the most secure worldwide. We don't store any important files on our own devices, it's all in the cloud. 
That is why we recommend to go the extra mile to fully secure your files and do off-site backups of your entire Google Workspaces – including mails! 
For this matter, we recommend Afi Backups.
Your Digital B2B Marketing Agency
We help B2B service providers build a strong brand and increase their sales. Create your sustainable stream of new clients and become a well-known authority in your market.
Slack Chat – The Central Communication Channel for Your Team
For your internal chat communication we recommend using Slack.
This tool offers a chat application in which you can map your company via individual channels, e.g. on a project level. It doesn't matter how big your company is – whether there are three of you or you have 1000 employees, with Slack you can ensure easy and fast communication.
Using Slack instead of WhatsApp or email for a team chat is the better choice because it allows a strict separation of private and business channels – which is very important from our experience. It  especially helps your team keep an overview over all projects.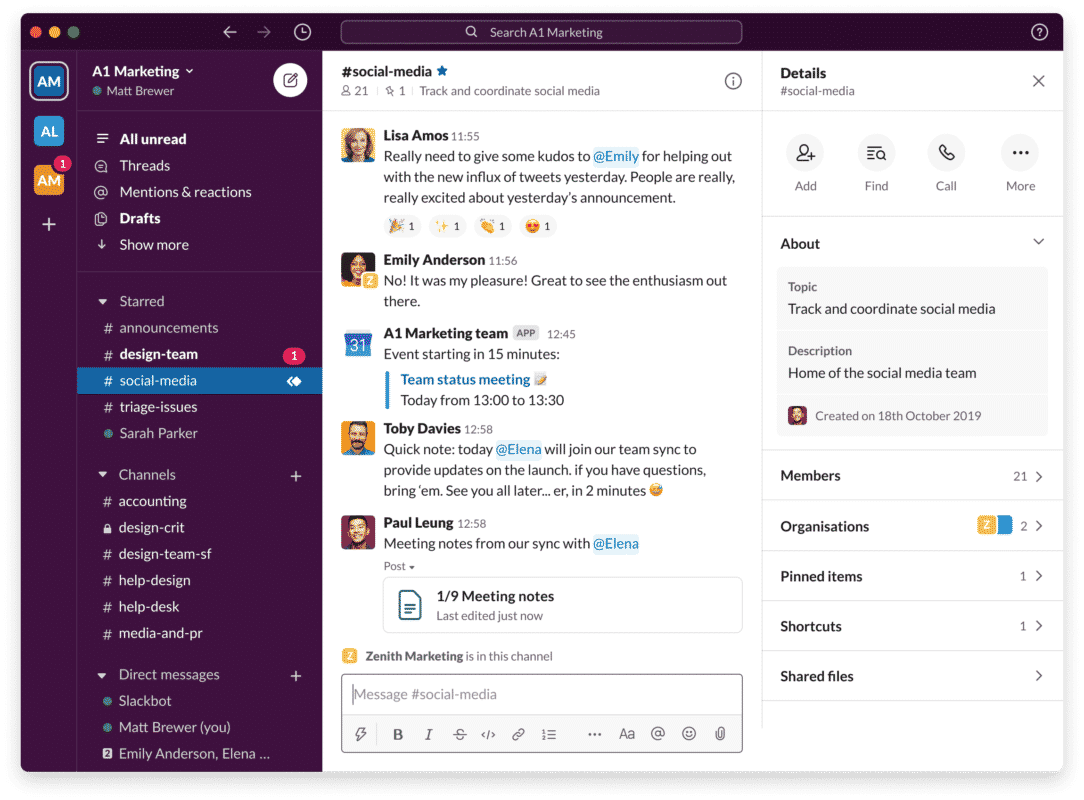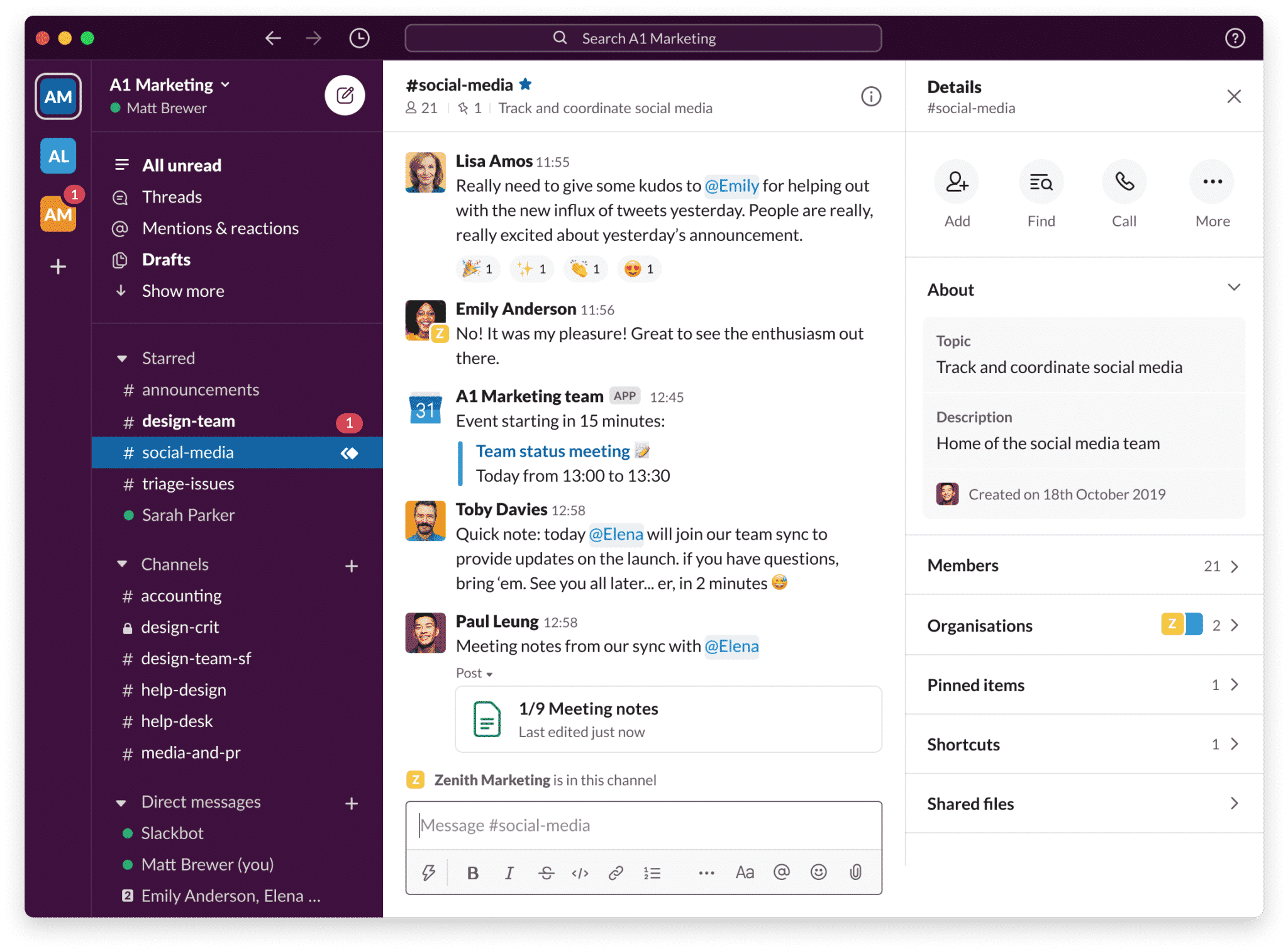 Here are a few reasons why Slack is a great choice:
It's Free of Charge – In the basic version, Slack is free of charge and offers an easy-to-use browser based chat application with groups or channels.
Centralized Communication – Create one "general" channel that includes the entire team to post information that is relevant for everybody. This ensures everybody is always informed quickly, whenever needed.
Setup Project Groups – Individual project teams can also create groups to discuss their task-management or in-detail decisions.
External Connections – You can also add external people for a simple communicaton with service providers and partners. We specifically do not recommend to use Slack as a channel for client-communication though.
Slack is the world's most successful chat application in the corporate sector – and not without reason.
In addition to its ease of use, there are numerous extensions and integrations available that allow you to customize Slack so it exactly fits your needs. However, we recommend keeping the system as simple as possible and sticking purely to the essentials – making it easier for your team to apply and keeping it uncluttered.
One further reason why we recommend only using the absolute basic features is to increase the chances of sticking to it. We've seen many companies stop using tools like Slack or Trello after a few months only because it got too complicated quickly. 
Discipline is always needed in order to stick to new tools and really benefit from them, reducing friction to use it is one of the key success factors.
Zoom: Video Conferencing with Screen Sharing and Cloud Recording Options
Another tool that is indispensable for internal and external communication is Zoom.
During the last years it has become one of the most important solutions for remote meetings and communication. It is another option to Microsoft Teams, Skype, or Google Meet, but we will stick to Zoom for its higher connection quality, higher video resolution, cloud-recording feature and just the overall ease of use and reliability.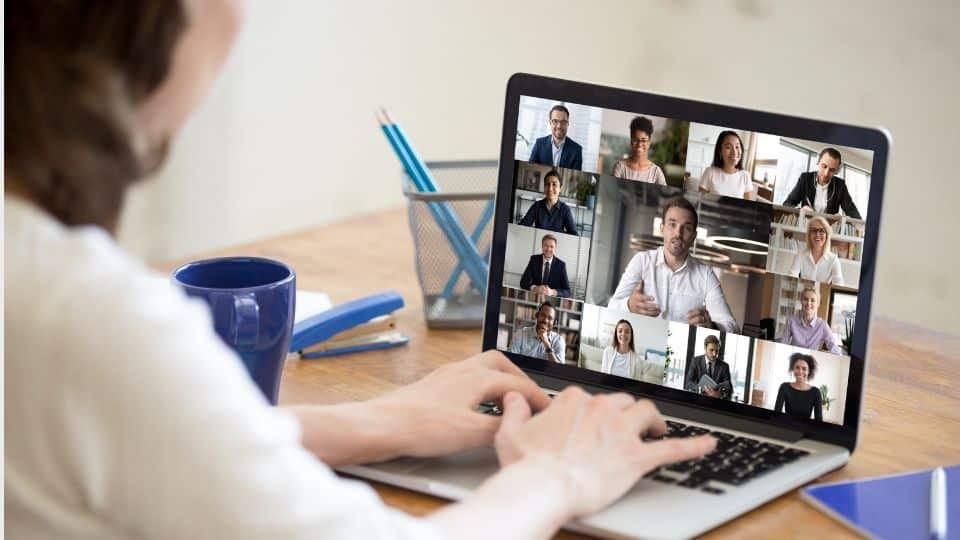 Meetings, online or offline, are important for teams to stay on track. It's also great for client communication. Video chat has been around for many years now and businesses still haven't learned from the mistakes they are making in offline meetings. The result being, teams that hang around in meetings that don't even need their attendance, or eve worse, meetings that don't even have an agenda at all.
That's why we recommend the following rules for the use of zoom – and frankly, any sort of meetings in general – online or offline:
Purpose and Desired Outcome – Before any meeting, ask yourself why you are doing it. What is the purpose of the meeting and what is the desired outcome? Without intention, you'll witness meetings that end up in a draining discussion, and even worse, it will leave you and your team without any tasks or next steps.
Rules for Efficient Meetings – During a meeting, you should always start off by telling your team the agenda and then letting them decide if their attendance is even needed. If not, you can offer them to leave and provide a link to the cloud recording afterwards – an incredibly useful feature that we love.
Keep It Small & Short – Aim to keep group sizes as small as possible. As mentioned above, we recommend to only invite people that are really needed and have something to contribute. The last rule is to keep meetings short – which you can only do if you have your desired outcome already in mind.
To get the maximum out of Zoom, you should try to stick to it – and replace phone calls whenever possible. As opposed to other Video Meeting tools, Zoom meetings are usually scheduled, or an invitation link is being sent to other people. We think this is a great thing – because it always needs some sort of scheduling. 
A phone call on the other hand will often distract your team members from what they are doing at that moment. We recommend sending an invitation via Slack or even mail to make sure you don't disturb or distract anyone.
We Provide Content Marketing & SEO Services For Your B2B Company
We provide all services and resources you need to grow your B2B business online. Strategy, Webdesign, Content Creation.
Trello: Central Project Management & To-Do List Tool to Create and Assign Tasks
With Trello you can create so-called "KanBan Boards" – "KanBan" is Japanese for "blackboard".  On each board you can add cards with to-do's on a project basis. These cards can also contain checklists, attached files and assigned team members.
The basic version of Trello is free of charge and is the most used tool worldwide for managing projects and tasks online. We use Trello for our own projects, as well as for our clients and partners.
The most important feature on Trello is the to-do list that can be shared with everyone else on your team. Our recommendation is to deploy a routine of going through the tasks together with your team each week. Set up a Zoom meeting and go through the tasks. This way, you can commit to actually using your Trello board, closing old tasks that are finished, or come up with new ones.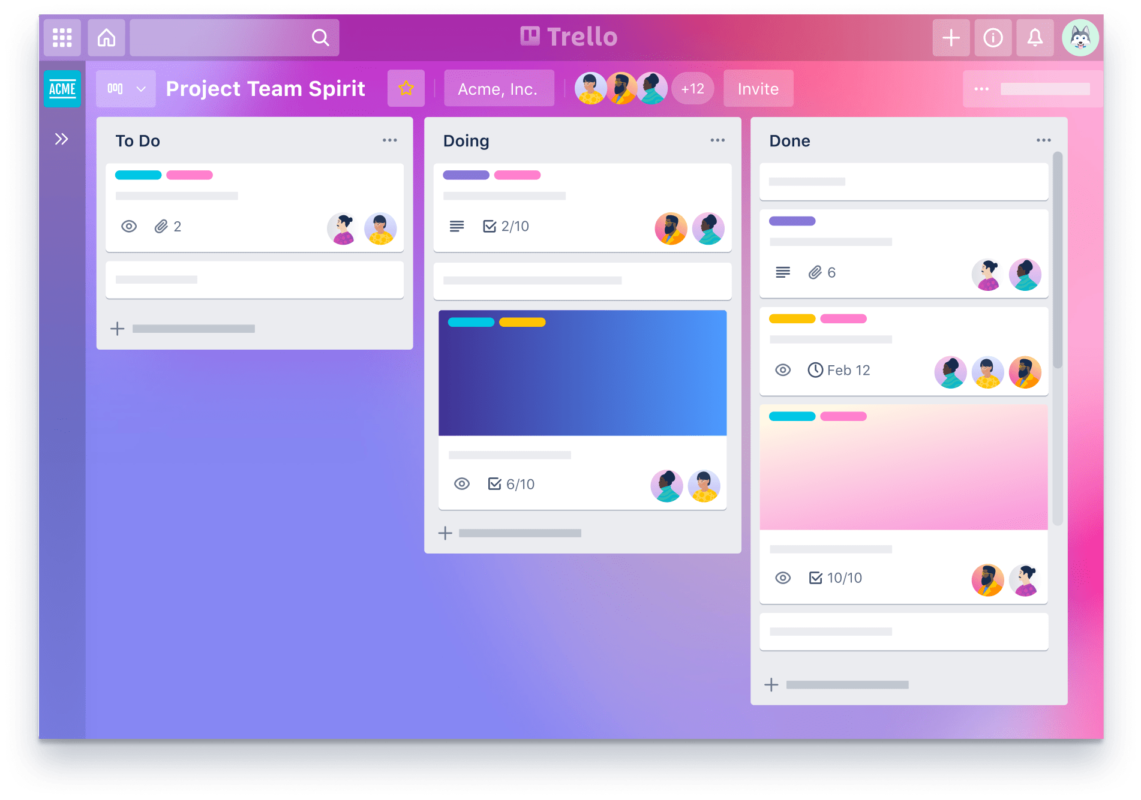 As with the other tools too, Trello is only a great tool for people who have the discipline to use it regularly. Therefore, we can only recommend again to keep it as simple as possible. Start with the common lists within your board:
To Do – Here you can add cards with important tasks that are up next. 
Doing – For tasks that have been started but are still in progress, this is the right list.
Done – To document finished tasks, move it to "Done". After a while, you can archive the card. Documenting finished tasks helps your team to keep an overview.
Additionally you can add a list called "Ideas" to note all things that come to your mind, or that anyone else just wants to discuss in the future.
Calendly: Easy Scheduling for Meetings With Team Members, Partners and Clients
Calendly helps you schedule meetings and cuts out the annoying "tell me when you are free" conversation for finding a date that fits both parties.
Gone are the days asking the client to propose 2-3 dates for appointments.
How annoying is it not to land a client project just because you couldn't find a suitable time for a meeting? It happens all the time – all around the world.
With Calendly you can simply create a link that leads to an online calendar where the person requesting an appointment can see your availability. You can either link Calendly to your calendar or create rules like "Available Mon-Fri between 10:00 and 19:00 – with 30 min break between each booked meeting".
From the client's point of view it looks like this: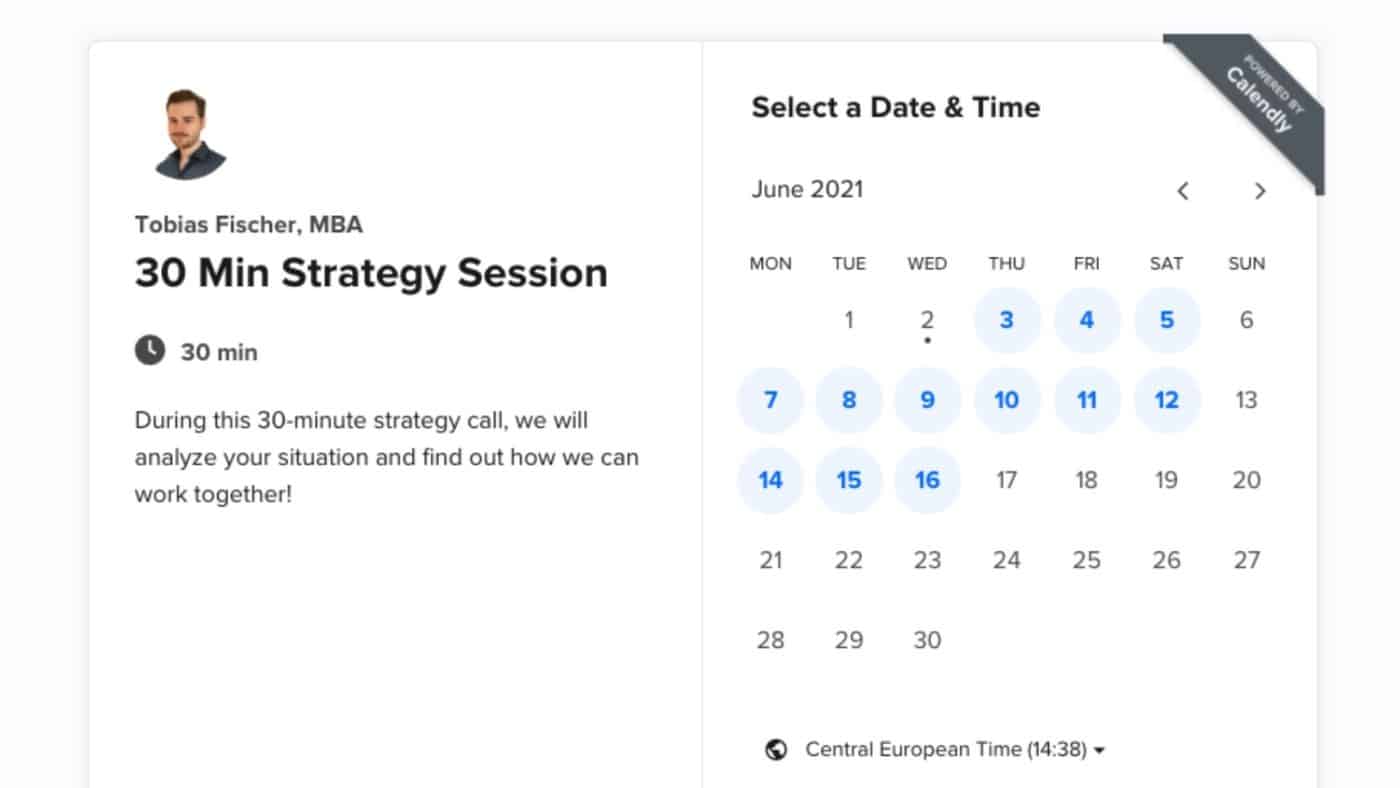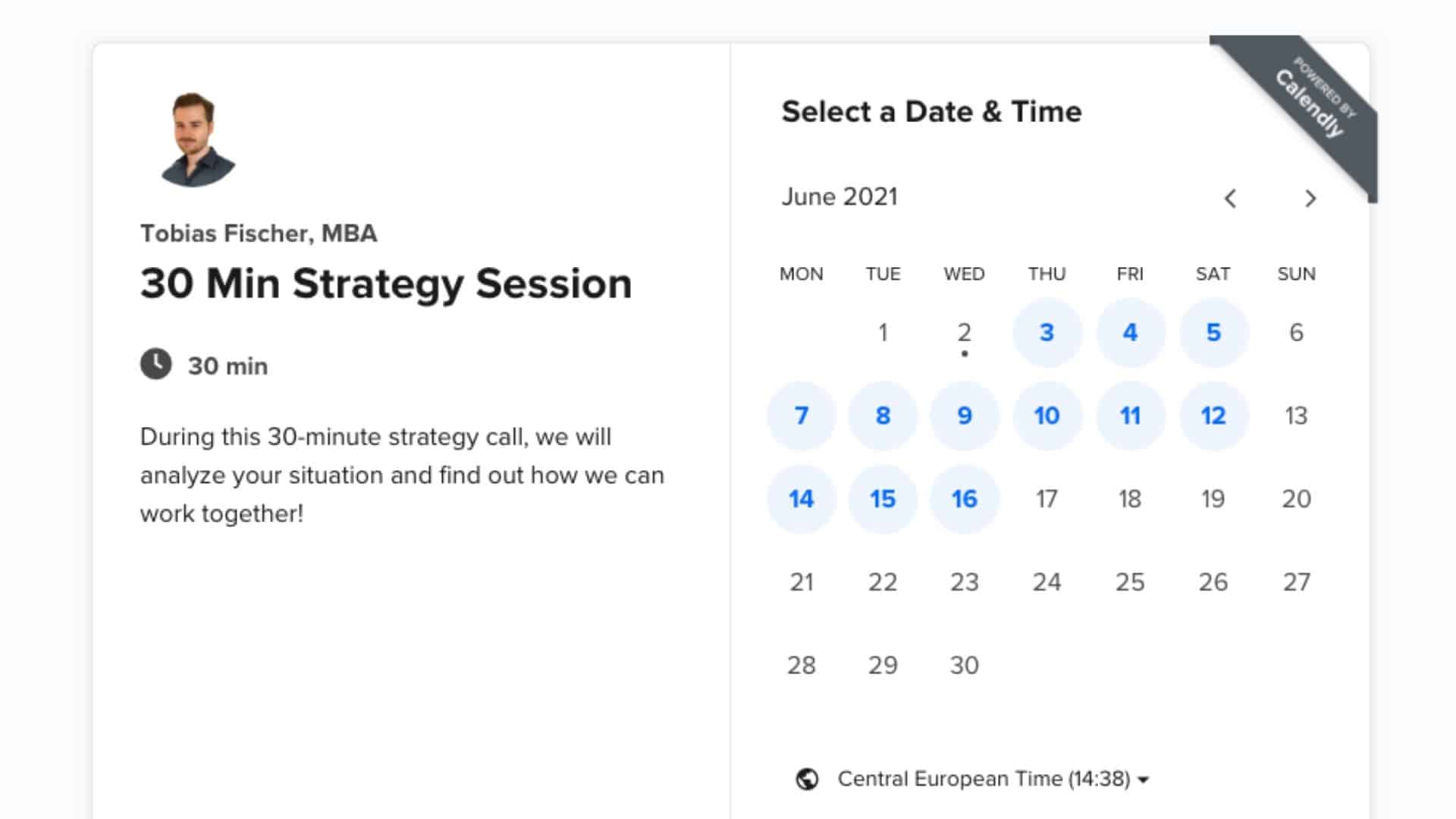 Invitees can then get a brief info about the appointment (on the left) and also see the dates on which you are available.
The time zone will be identified automatically – so this feature comes in handy especially when working with different time zones.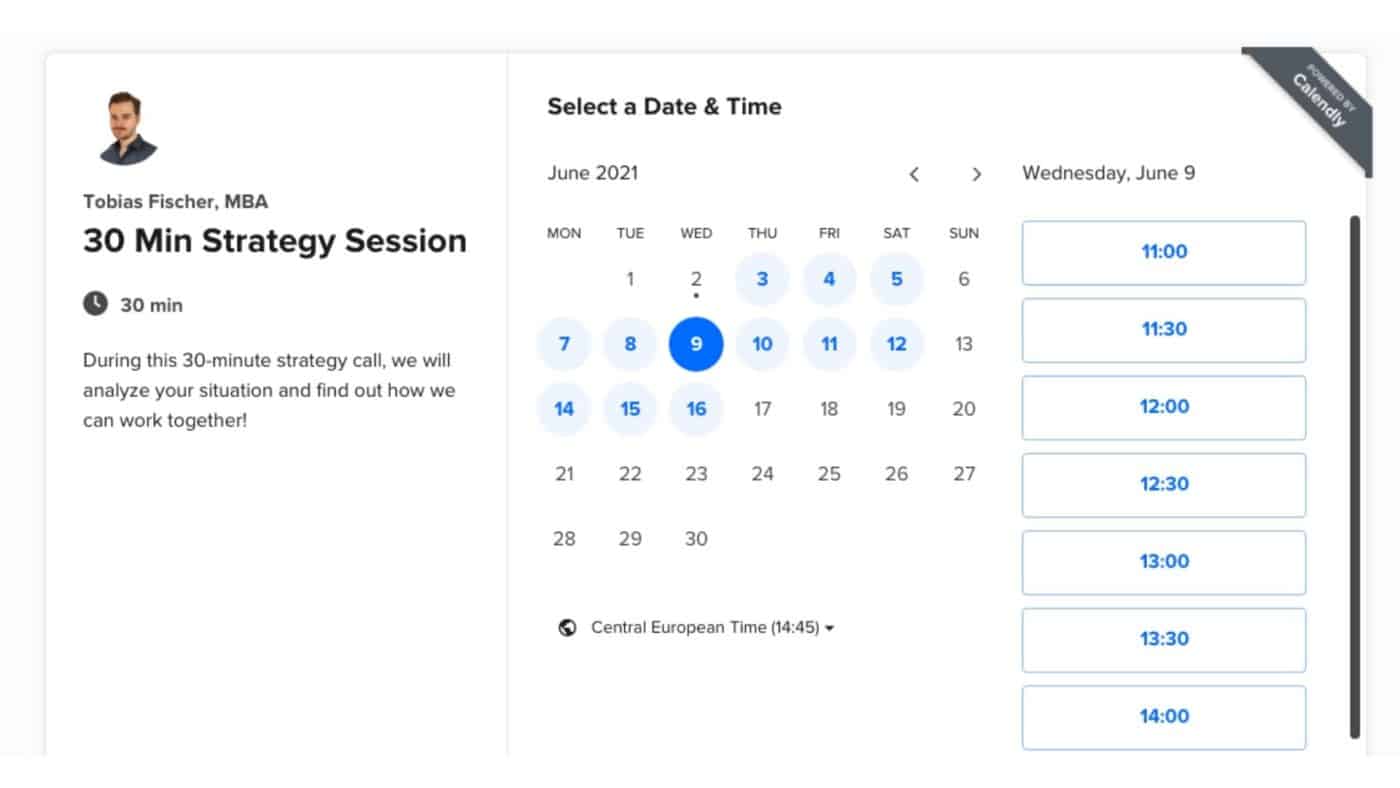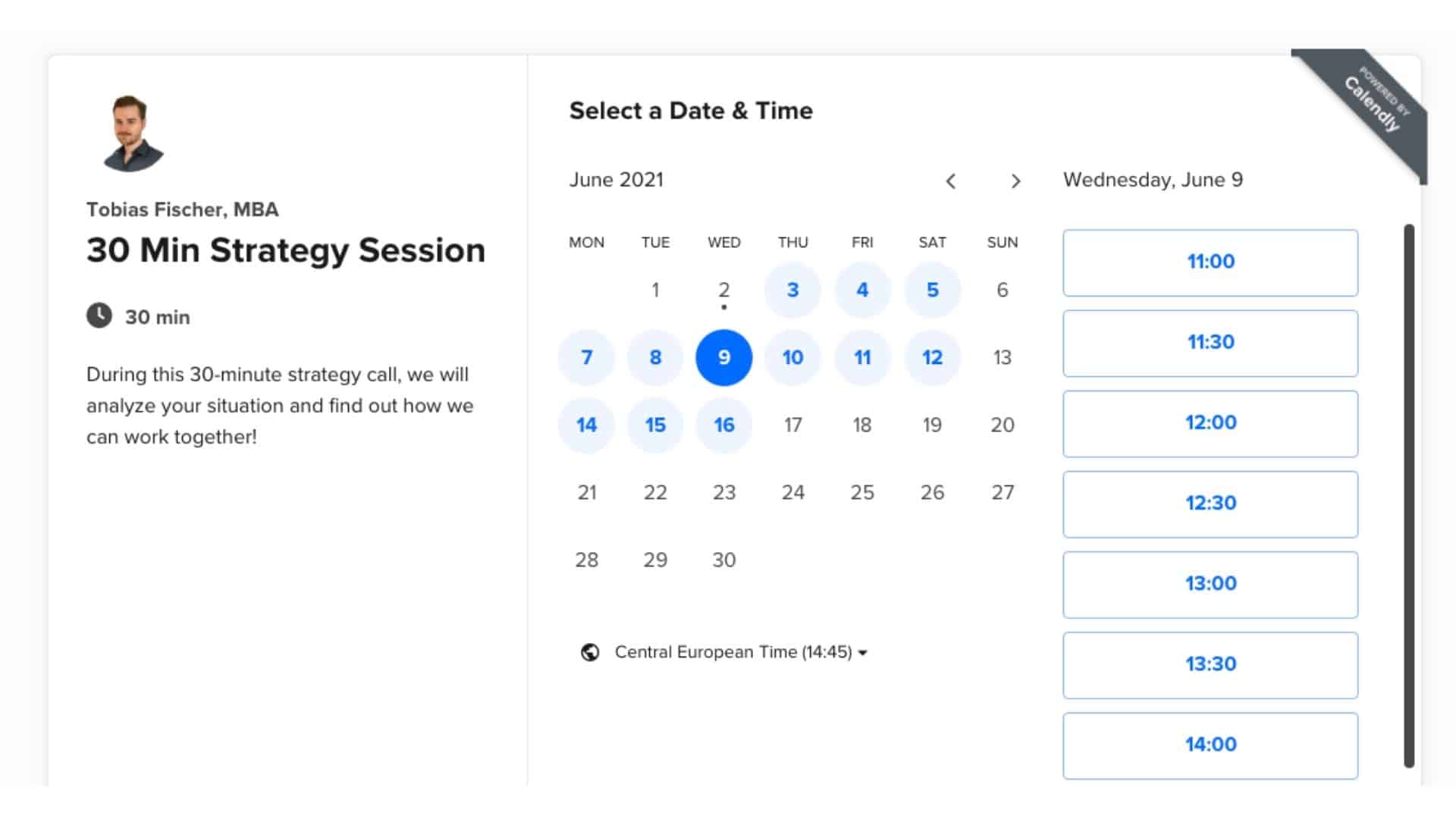 If the invitee clicks on a day, the times you are available will show up. By clicking on the time slot, an appointment can be selected.
What's left is to leave the basic details. You can use the calendar with team colleagues, external service providers or clients.
The person who requested the appointment then receives a confirmation by email and can save the appointment directly to their calendar. In addition, a reminder will be sent out before the appointment.
Your team members can also create their own calendars and add them to their own email signature – giving coworkers the chance to book a meeting at any time.
Calendly is free of charge in the basic version. Paid versions even allow you to add prices for paid appointments like consultations and offer an integration to Zoom.
If you are a service provider like B2B Digital Marketing Agencies, who regularly offer appointments you should definitely try out Calendly!
Quickbooks Online: The Best Accounting Software for Small Businesses
How do you create and send your invoices?
We recommend using a centralized system for creating invoices as a basic requirement for any company wanting to improve processes and increase sales. Creating invoices using an excel or word will get you in trouble very soon when it's time to file your taxes or prepare your bookkeeping.
A good option is QuickBooks Online. It allows you to track expenses, customize invoices and gain insights about your financial situation through reports – all from one place completely browser based.
We recommend to use it for these 3 major features:
Creating and Sending Professional Invoices – Create professionally designed invoices in a few seconds and send them to your clients directly.
Tracking Your Business' Income & Expenses  – Keep an overview of your business' financual situation.
Preparing Your Tax – Prepare everything for your accountant.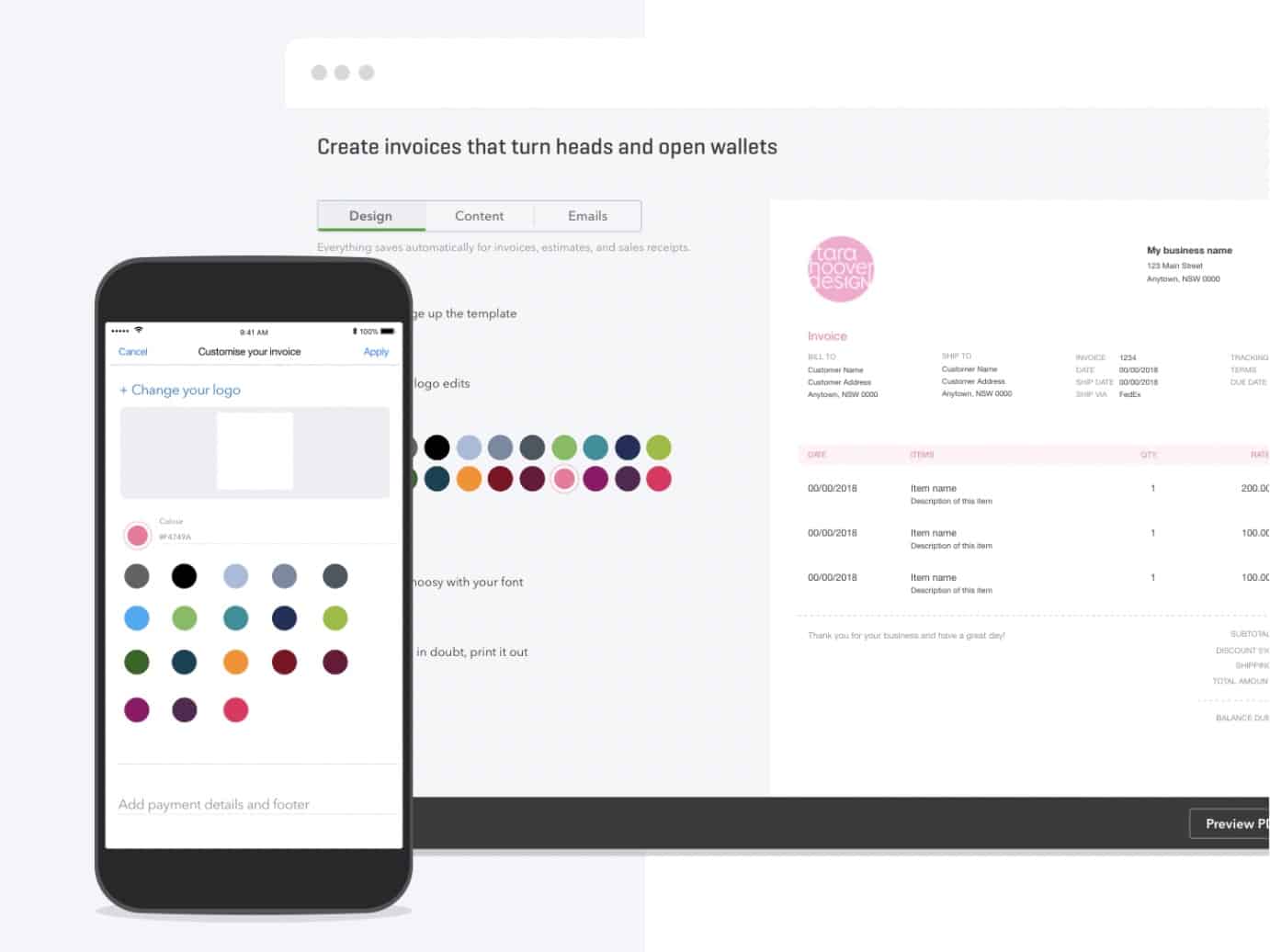 A professional looking proposal or invoice should be a part of every modern business – and of course, it should all be available online and cloud-based.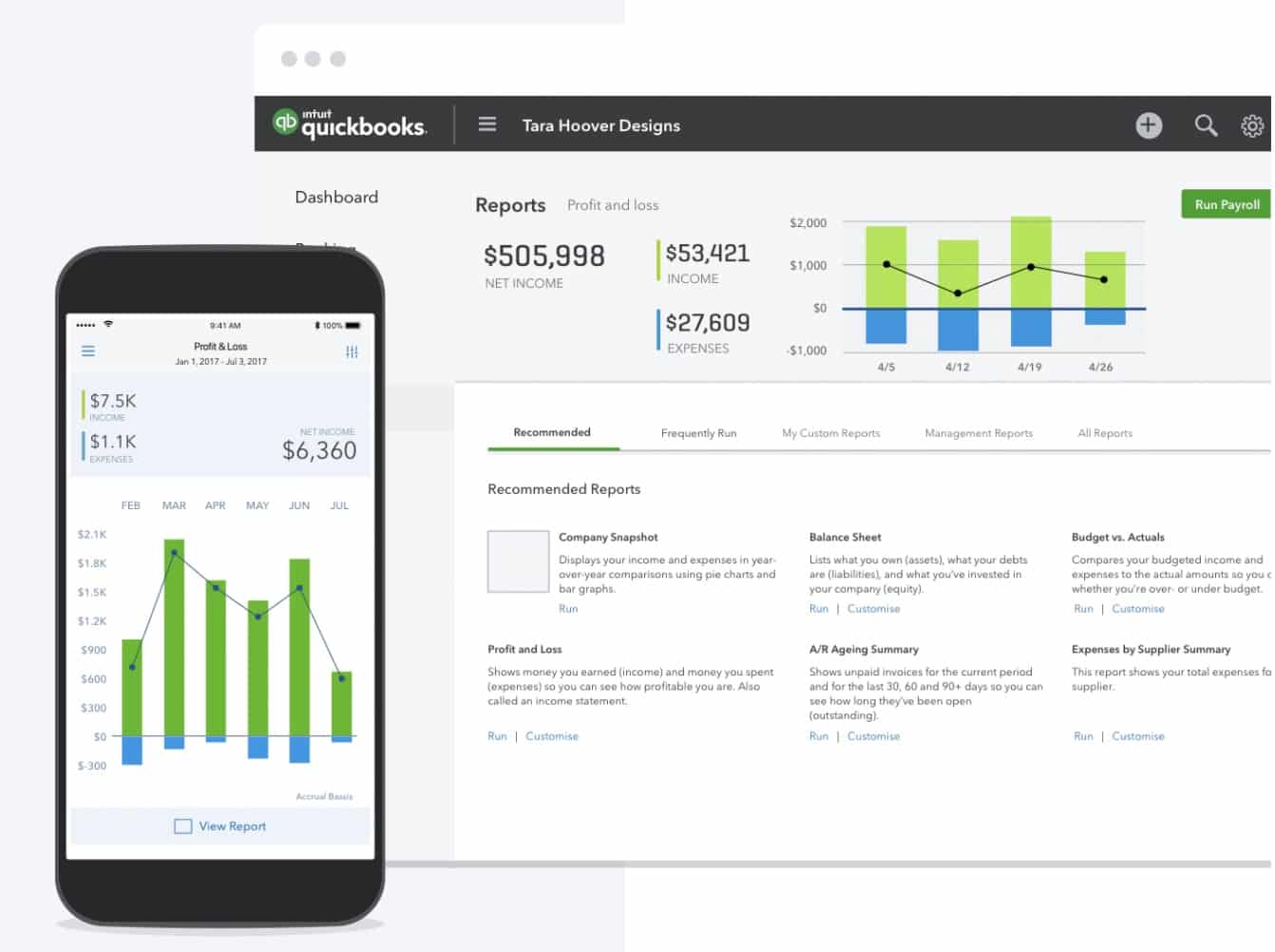 Keeping an overview over your financial situation shouldn't be complicated. It should rather be fun and engaging. That's what you need a business software with a nice user surface for. 
As with all the tools and software we recommended in this short post, we especially picked not only established industry leaders, but also the ones that are fun, easy to use and well designed.
Increase Your Website Traffic Now
Attracting new clients via high-quality content is the best and most sustainable way to grow your B2B business.
Conclusion – Take Action Now and Start Implementing the Fundamental Tools
One thing we didn't cover in this post is Cyber Security. Applying the absolute basics of account protection by using a password manager like LastPass and using Two-Factor-Authentication whenever possible, can be and will be your absolute life saver! If you don't even use a password manager tool yet, we strongly recommend to follow this simple cyber security guide to protect your accounts online.
The 6 basic software tools that we recommended in this post are all easy to setup, easy to use, and most of them even free!
Digital transformation or digitization are often used as buzzwords from people who just want to sound important, when actually it could be this easy. Cleaning up your business by implementing these software tools is a major step that every small to medium sized business owner should go for.
As a part of our personal consulting service for B2B service providers, we help all of our clients to implement these tools and stick to them too. At the end of the day, this is the foundation that you build your business on. If you are looking to finally transform your business, for your internal workflow as well as your client acquisition through a strong service provider website or Content Marketing & SEO, please get in touch and schedule a free meeting with our experts.