The purpose of this 5-step guide is to show you the most important success factors for your law firm SEO and how to implement them.
If you read this blog post until the end, you'll be able to either implement the marketing measures yourself or pick an experienced service provider to do it for you. What really matters is that you understand what law firm SEO is really about so you won't get ripped off like most lawyers or law firms who hire an agency without being able to review or assess their work.
The good news is: It's not even as complicated as you think! Although many agencies try to make you think it's all rocket science – we can assure you – it's not!
But of course you still need to follow the digital marketing best practices and the Google SEO guidelines for website owners. Or simply put: You need to have an SEO-optimized website as well as a constant supply of fresh content for your blog.
No worries, we will boil down all the relevant information for you in this 3 step guide!
Let's jump right in!
What Is Law Firm SEO/Content Marketing?
Everybody's talking about "SEO" but still, most law firms don't leverage organic search traffic for their website and their business. From our experience, there are multiple reasons for this phenomenon.
Many attorneys are just too busy to get involved in ongoing marketing efforts. Or they are just overwhelmed with all the complicated information and the sheer endless measures that you could take to improve your website.
That's why we specialized in breaking things down to small bites that are easy to understand. Therefore, we cut out all the technical optimization stuff that might only make 1% of the final Google ranking result.
Law Firm SEO Means Increasing Your Website's Online Reach to Get More Inbound Clients
SEO (Search Engine Optimization) is a broad term describing all measures needed to optimize your website's visibility in the search engines. If you'd boil it down, there are two factors that are crucial for your ranking success:
Having an Optimized Law Firm Website – Google's No.1 ranking factor is the user experience itself. Hence, your website needs to be very easy to understand and navigate through. Google measures the dwell time, meaning the time spent on your website, scrolling, reading and clicking elements. Your navigation should be easy to understand and provide the endpoints a user would expect, such as HOME, SERVICES, ABOUT, BLOG, CONTACT. Learn more on that later in this guide.
Creating Content for Your Blog to Attract Clients – Your law firm blog is where user traffic is generated. By creating guides around topics that your potential clients are interested in, you'll get a chance to be found on Google. Every topic, every service that you provide offers dozens, if not hundreds of topics that you can write about and that clients are searching for. That's why nowadays, the term "Content Marketing" is used as a synonym for "SEO".


Here is an example of one of our law firm clients, in the field of commercial law. This screenshot from the Google Search Console shows how clicks have steadily increased over the 10-month period through the complete website relaunch and content marketing we did for them. Their lead generation has become a huge success in under a year – with up to 150 clicks via Google search – day by day!
Why Is SEO/Content Marketing the Most Important Acquisition Channel for Law Firms?
No matter if your law firm aims to generate new leads and clients in the Business-to-Business fields or for private clients, visibility on Google might be the most important acquisition channel for you in the long run.
When starting out to build your law firm, word of mouth marketing is important to get your feet off the ground. But when it comes to longterm success and being able to generate a sustainable inbound stream of leads, digital marketing is crucial. Potential clients usually use Google search to find a law firm. You can get visibility on Google by ranking for relevant search terms organically, for example by creating valuable guides. "Why not just run Google Search ads?"  You might ask yourself.
The answer is simple: Because it's too expensive and often has a bad ROI.
Google ads can be a great opportunity to get your first leads and get feedback from the market. But especially with highly competitive search terms for law firms, a single click can cost you more than 100 USD! Many of the big law firms run 7-figure yearly budgets on Google ads, without even tracking the return. For them it might just be a branding and status campaign.
Small to medium sized law firms on the other hand can usually not afford to do so. The money spent on ads will eventually just empty your pockets. Turning off the ads will just leave you with nothing – while money invested in content accumulates over time and increases its momentum exponentially.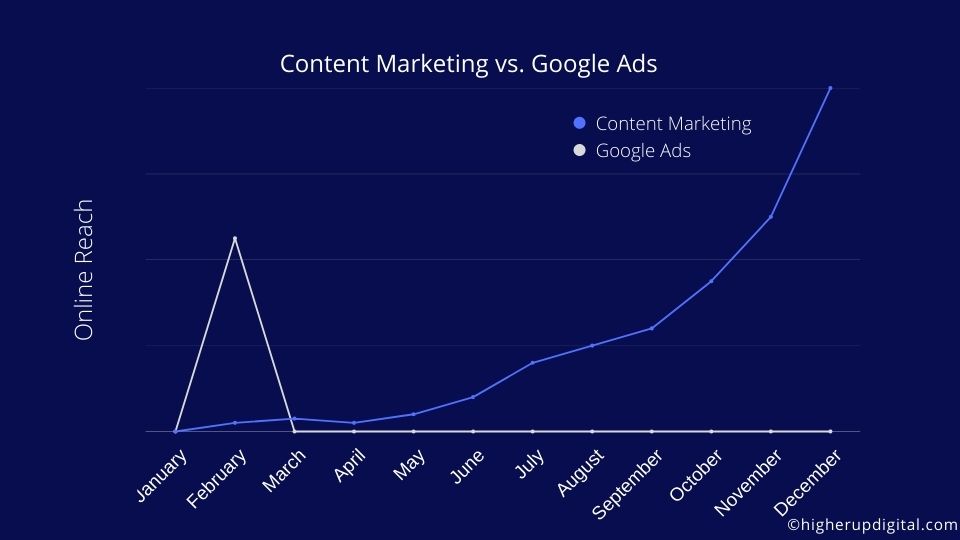 Investing in content marketing & SEO for your law firm blog is a real long term investment that will pay off over years! You could say it's a real asset. Building a strong law firm website with an easy to understand portfolio of services and a blog packed with useful, valuable information is a true competitive advantage.
If you don't start building your blog – your digital asset – today, your competitors might overtake you and it will be harder and harder to keep up. But it's not too late!
The 3 Fundamental Steps for Your Law Firm SEO / Google-Ranking Success
1. Law Firm Website Technical Optimization
The website is the center of all your digital marketing efforts. That's why it's important to optimize your web presence first before starting with content creation. The first step is to optimize the technical foundation and the structure of your website. 
This might sound more complicated than it actually is – especially if you work with an experienced web designer who is familiar with the system that you use. At HIGHER-UP Digital we only work with WordPress, since it's the most popular, most widely used content management system worldwide and statistically provides the best SEO results. The first steps that we recommend to optimize are:
Tech-Stack / Hosting Optimization – In order for your website to run fast and smoothly, which is also a Google ranking factor, we recommend you use a high speed hosting provider like KINSTA. You can read our guide on hosting for service provider websites for further information on this matter. A major WordPress website optimization step would be the removal of unnecessary plugins to increase website speed and security against cyber attacks.
Website Structure for a Law Firm Website – The structure of a website is another fundamental factor for success. The secret is being as un-creative as possible and simply following the best practice of naming menu endpoints just as users would expect them to be named. Our suggestion is to go with the basics of HOME, SERVICES, ABOUT, BLOG, CONTACT. If applicable, you can add an endpoint REFERENCES or WORK to your website navigation. The HOME page should give a full overview of all other sub-pages and link to them.
Your Digital B2B Marketing Agency
We help B2B service providers such as law firms build a strong brand and increase their sales. Create your sustainable stream of new clients and become a well-known authority in your market.
2. Website Structure & Content Optimization
After finalizing the technical and website-structural editing, it's time to look at your website's actual content and copy. This is also a great time to re-think the entire positioning of your law firm company and your website. Which services do you need to focus on? Which clients do you aim to attract? The best approach is to question the purpose of every subpage and create the copy accordingly.
HOME – The Home page should give an overview over all other subpages. New visitors should be able to understand what you have to offer within 3 seconds. Thats why a short, clear main-headline is needed, followed by a sub-headline for further explanation of what you have to offer. Example: "We help small businesses manage legal challenges so they can focus on their core-business".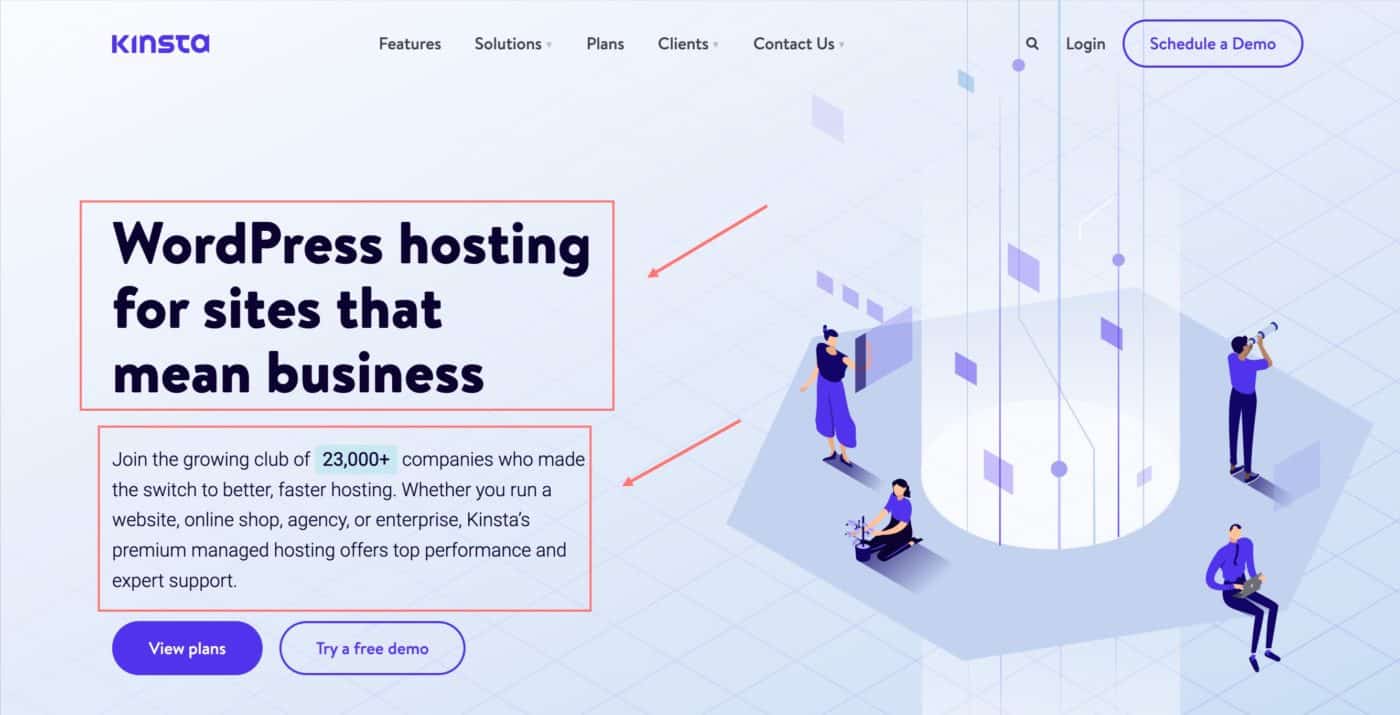 SERVICES – The Services overview page should list the different services that you provide. Every service should have its own description to help the end-user fully understand what they can expect and why they should work with you. We recommend to use single service pages, one page per service. This way you can link from your blogposts to separate services and give them a SEO boost.
ABOUT – The About page is a highly underestimated instrument to build trust. Attorneys usually think it's enough to add some bullet points containing their education and certifications. It's much more important to provide a comprehensive description of why you decided to specialize in doing what you are doing (your mission) and explaining why potential clients should choose you (benefits).
BLOG – The Blog consists of an archive which gives an overview over the recent posts, usually in a chronological order. Users can click on a post to view the single-post page. This is where the SEO magic happens. New posts around specific topics attract potential clients to your website.
CONTACT – Your Contact form page should contain a simple contact form, with only as many fields to fill in that you really need. Make sure it stays free from other distractions. Your other pages should link to the contact form with a simple call to action like "Use our contact form to request a free assessment of your case".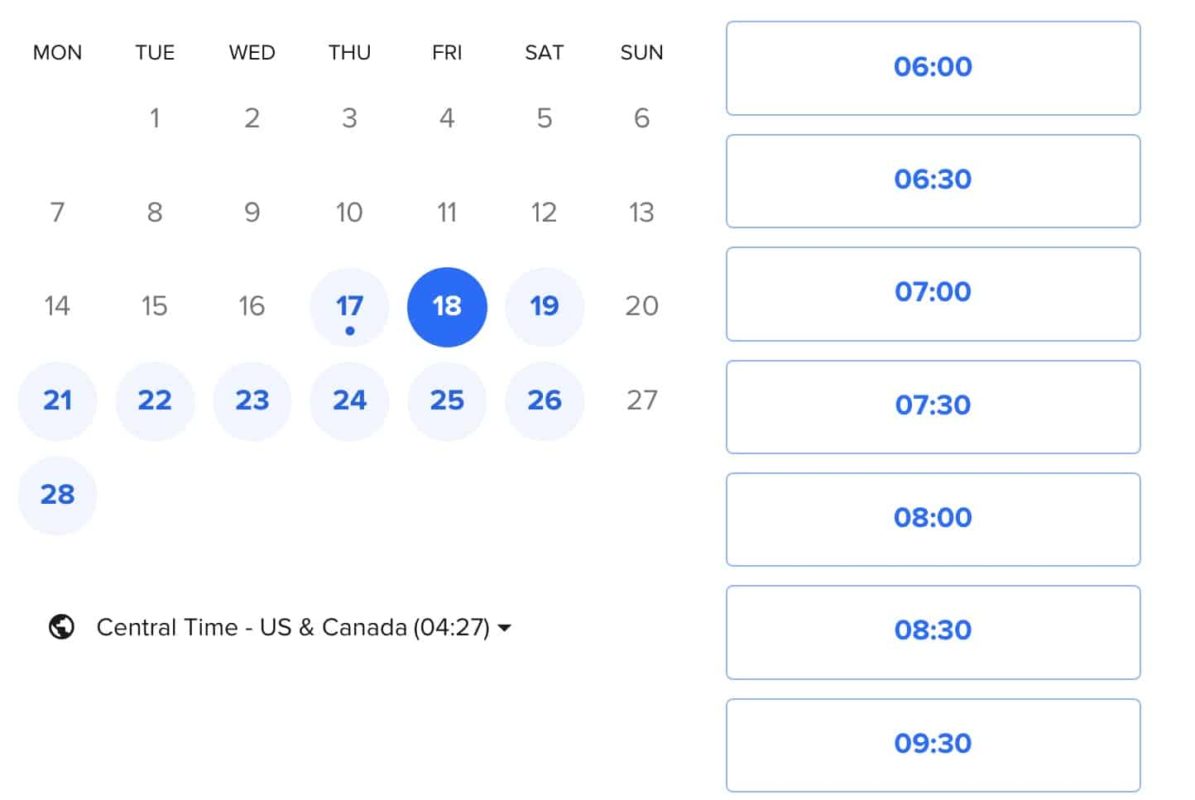 Optionally you could also add a link to a subpage containing a calendar to offer an appointment right away. Your law firm clients will benefit from a quick and easy way to schedule their appointment while you'll also benefit from the simplicity of scheduling a meeting without the hassle of asking for the day and time.
A scheduled meeting means easy preparation for you since you can get everything ready for the call, especially when you add some additional questions to the calendar. We recommend using Calendly because it comes with a free basic plan, is easy to integrate into your website and offers a very user-friendly workflow. 
3. Content Marketing Workflow for Legal Topics
Now that your website is optimized from a technical perspective, offers a clean and easy to understand, easy to navigate structure, contains all relevant information and benefits of your services and your business, it's time to get to the main-work of SEO: Content creation for your law firm blog!
As mentioned above, the blog consists of a blog archive page and several single blog pages where there is one blog page per topic as you can see below.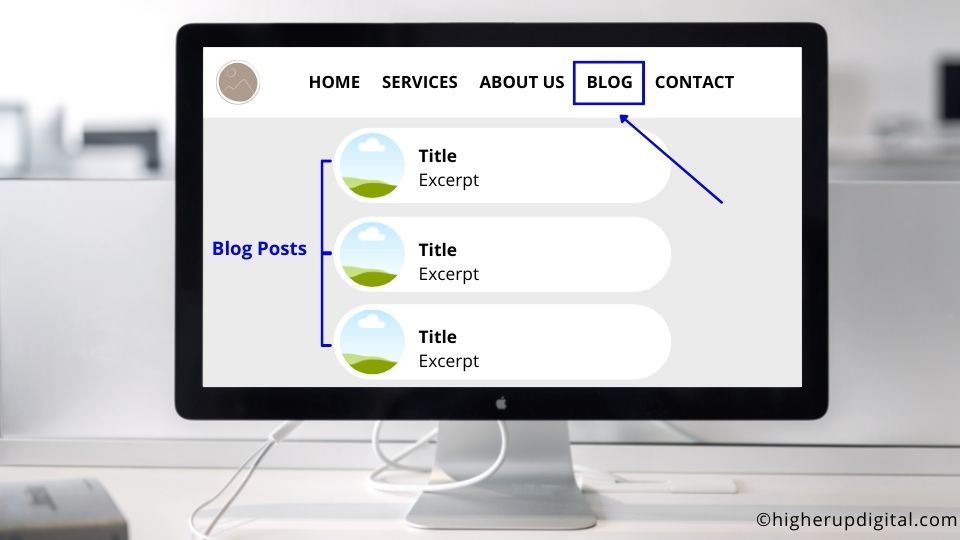 The layout is usually created by your WordPress theme or manually. Within a blog post, a nice, big and easy to read title is important.
The title is a very crucial part of each post since new website visitors only take a few seconds, or sometimes even less than a second, to evaluate if they want to stay on your website or not. The post's title should include the main-keyword that you want to rank a post for and be catchy at the same time.
How to Find New Keywords/Topics to Write About
To find new topics to write about you should follow these rules:
Find Relevant Topics – Relevant means, they need to be relevant for your own business! Don't write about things that your audience is not interested in, or in general, just avoid topics that won't bring in any new leads. If your clients are seeking advice in the field of business contracts, try to figure out which specific problems they have and which questions they google for.
Use the Google Search to Understand Your Clients – Actually google for interesting search terms yourself and have a look on what your competitors are doing. Try to view it from your clients' perspective. If the first page of search results is full of competitors writing about "LLC vs. Inc." when searching for company-setup topics, then you can be sure that this is a hot topic.
Use Keyword Research Tools – To get more data about a keyword, you can use keyword research tools. Some of them are free, like ubersuggest.com, while other, more advanced tools with better, more accurate data like ahrefs.com start at 99 USD per month. Often times there is no relevant data for a keyword and it will show 0 search volume. If you still think that your clients are searching for that keyword, or if there are already some other websites doing the same, we'd recommend to go for it anyway. Who knows, you might be the first one with the idea – which will give you an advantage!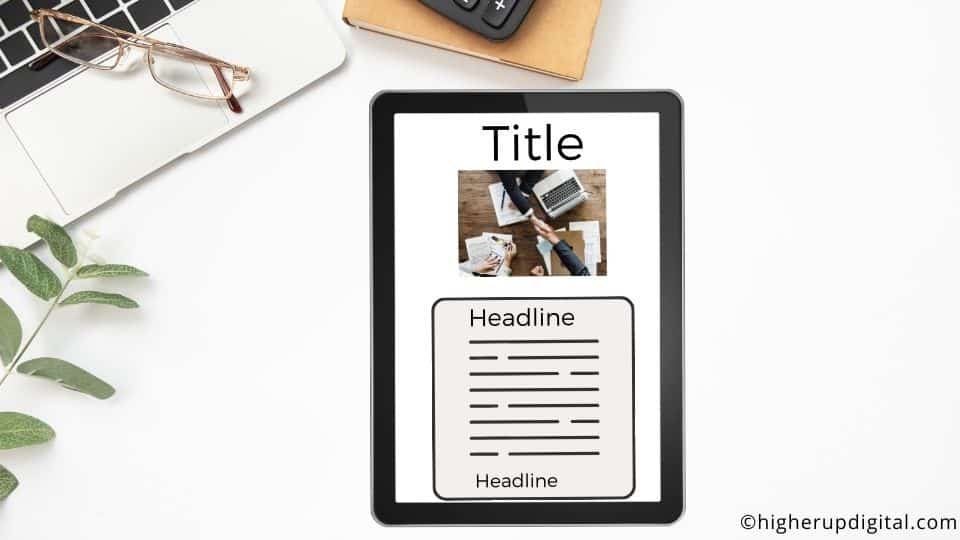 Make Sure to Always Have a Catchy Headline 
The H1 Title of your post should be catchy and summarize the topic. Statistically there are two types of content that get the most traffic on Google:
How-to Guides – One of the best ways to attract visitors for your law firm website is a simple how-to guide such as: "How to Form an LLC – The Ultimate Guide". It's easy to understand and your visitors know what to expect.
List Posts – Sometimes even more catchy could be a list post like "Form an LLC in 5 Simple Steps" or "Avoid These 5 Costly Mistakes When Forming an LLC". Uneven numbers like 3, 5, 7, 9 tend to work better, statistically.
The first paragraphs of a new post should always answer the "what's in for me". Get straight to the point and tell your readers: "After reading this guide, you'll know exactly which are the top 5 mistakes to avoid when forming an LLC. We'll also show you how it's done correctly and guide you through the entire process, step by step"
If you don't manage to convince a new website visitor to stay and to keep reading, they'll be gone immediately. 
We Provide Content Marketing & SEO Services For Your Law Firm
We provide all services and resources you need to grow your law firm website online. Consultation, Webdesign, Content Creation & SEO.
Do Engaging Headlines Really Matter?
Yes – they do! Because most readers will just skim through the content and not read everything. Also, Google loves questions as headlines, because 25-30% of Google searches are queries containing questions!
Depending on the depth of the topic, we recommend a post to contain 800-3000 words. Make sure to skip information that is not really needed for the visitor to answer their question. When doing your research, see what your top-5 best competitors (on Google search) are writing about, how they structured their post and how comprehensive it is. If they get great results, it might make sense to get some inspiration from them – without copying of course.
As you can imagine, there is a lot more to law firm content marketing than these few pieces of advice mentioned in this post. For a comprehensive guide you can check out our Ultimate Guide on Content Marketing, where you'll find even more advice that you can follow step-by-step.
How Often Should I Post New Content?
This is an important question regarding your workflow. Creating content takes time and energy, that is why most law firms don't properly work on their content marketing strategy even though they know the benefits and sometimes even have the knowledge on how to do it!
The limiting factor is often the time and energy, because it's hard to run a business, deal with cases or clients and still take care of your website and blog.
We recommend setting up a routine of weekly content creation, let's say you reserve one day a week to work on your SEO strategy. This could lead to you coming up with 1-2 posts per month – which is a great way to start getting results. Alternatively you could also outsource this job to our team of experts and use our full service package – including all SEO optimization and content creation work.
Conclusion – The 3 Steps For Lawyer-SEO Success and How to Get Started
We've covered a lot in this guide already, let's quickly summarize it again:
Start with Your Website – Optimize your website for clarity, readability, provide a clear navigation and structure that is easy to understand. Optimize your tech-setup for fast loading-speed and security. 
Optimize Your Content & Copywriting – Make sure you have service descriptions that are comprehensive, easy to understand and communicate the benefits of working with you. The About page should showcase the mission of your law firm and name even more reasons why you are the right partner to work with.
Consistently create Content for Your Blog

 

– Your blog is where the real SEO magic happens. Introduce a workflow of content creation and keyword research for consistent output of new posts. Make sure they are relevant for your business and people are searching for it. Don't forget to include clear call-to-actions.
Increase Your Website's Traffic Now
Attracting new clients via high-quality content is the best and most sustainable way to grow your law firm business.
Mastering these 3 steps will already help you achieve at least 80% of your possible SEO success. That's why we highly recommend not to get distracted and focus on the basics to build a strong foundation. There are tons of other marketing tools that you could use, especially in the field of digital marketing.
That's why it's especially important to keep your focus and just keep going. Remember, the high-ranking law firm websites that generate thousands of client-clicks and a consistent stream of fresh, warm leads, also started somewhere and just kept going until their results started to increase. We'd love to help you achieve this goal by providing full service web design & content marketing services for you.
Schedule a Free Strategy Session With Our Experts
Our clients use our services not only because we are specialized in web design and content marketing but mainly because it's one less thing they need to worry about.
We work closely together with our clients, providing consultation to improve their entire lead generation process and help them increase their revenue.
If you are interested to learn more about us and how we can help you grow your reach online and build a brand, please use our contact form or schedule a free strategy session right away.