In this guide, we will summarize the 3 most important steps that you need to follow in order to grow your reach, generate leads and win new clients on LinkedIn.
LinkedIn is becoming more and more important for businesses for lead generation and sales strategies. It is the best-known social media network used for business. Especially in the B2B sector, from business to business, you will no longer be able to get around this platform if you are selling products or services and want to grow your reach and brand-awareness. But in addition to that, it's also a great opportunity for classic outreach and sales.
We will show you what LinkedIn is, how to get started by optimizing your personal account, how to build a network and what you need to do to generate leads. These are all tried and tested methods that will help you to become more successful in your niche. They are all very simple – and completely free!
LinkedIn For B2B Business: What Is It All About And How Can You Benefit From It?
LinkedIn's biggest goal is to connect professionals and executives with each other – and the company is already very successful in doing so. With over 756 million members in more than 200 different countries and regions, LinkedIn is the largest social media network for business – in the world.
On LinkedIn, users can maintain existing business contacts and make new business connections. LinkedIn is structured similarly to the private social network Facebook and just as simple to understand. But since it hasn't been on the web for too long, it offers way more opportunity to build your corporate brand or grow a network.
What You Can Use It For – The Main Benefits
Presenting Yourself, Your Business and Your Services – Just like you can on your website, you can provide the most important information about yourself and your business on your LinkedIn profile page. This way, other LinkedIn members can get an overview of the services or products you provide.
Building a Professional Network – LinkedIn is all about networking! Connect with other people and build a contact list that you can reach out to any time. You can filter by industry or just use keywords in the person-search to expand your contact list. There is no easier way to find and connect with new prospects!
Publishing and Sharing Posts – LinkedIn can also be used to publish updates or blog posts which your contacts can comment on or like. Your contacts can also share your posts using the "Share" or "Send" feature, making your content visible to their contacts and helping you to gradually reach an even larger audience. 

Sending Messages

 – LinkedIn has an integrated messenger for this purpose which can be used to send private messages, kind of like an email inbox. Reaching out to your new network connections is still manual work. But it is by far the most effective way to build meaningful connections and therefore generate new leads.
Is LinkedIn Worth It? 3 Reasons Why You Should Definitely Use It For Business
With LinkedIn you can easily:
Increase Your Reach – LinkedIn gives you the opportunity to constantly increase your network and reach by adding more contacts, so that more potential clients get to know you and will eventually remember you – especially when you post regular updates like new, valuable blogposts from your website blog!
Contact Potential Prospects – You get in touch with new people in a very easygoing and non-binding way. They might even be interested in your services right away so that new sales and revenue will be generated directly.
Gain Insights from the Market

– You get direct feedback from the market and also your new contacts will often let you know what they think about your offer. This way, you can easily analyze the demand on the market or gain valuable insights to use for your business.
Your Digital B2B Marketing Agency
We help B2B service providers build a strong brand and increase their sales. Create your sustainable stream of new clients and become a well-known authority in your market.
LinkedIn For B2B Lead Generation: Become Successful With These 3 Free, Simple Steps
There are dozens of different ways how you can use LinkedIn. While most of them might work, not all of them are equally effective. Most importantly, you definitely need to focus on the absolute basics when starting out on LinkedIn. Otherwise you will end up being overwhelmed and eventually just give up – without generating a single lead!
To prevent that from happening, we strongly advise you to follow these 3 simple steps carefully and focus and execute on them – until you get the results you are looking for. 
1. Create a LinkedIn Account and Optimize Your Profile
First, create a LinkedIn account. To get started, you need to sign up with your email address and a password. 
To start out, the standard profile is sufficient – and free of charge. You will learn more about LinkedIn's paid products further down in this article.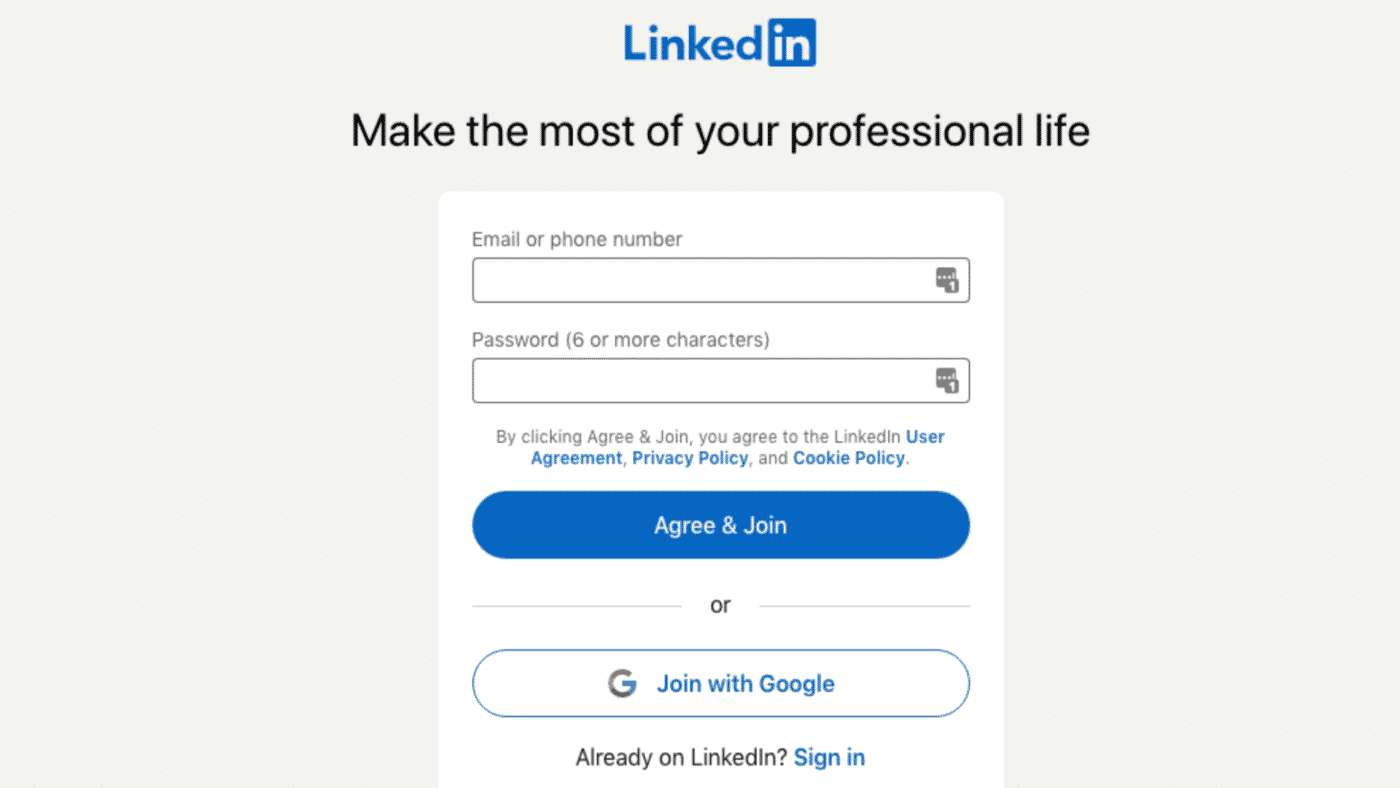 In the next step, optimize your profile. Your goal should be, just like it is on your website, to show your profile's visitors in a short amount of time that they've come to the right place. Therefore you need to make sure your profile shows exactly which services you are offering and what you've specialized in.
Optimize Your LinkedIn Profile For Conversion
Use a High-Quality Profile Photo – Your contacts want to know who they are talking to. A professional-looking and at the same time friendly profile photo helps to build trust and a connection. Profiles with a profile photo get up to 21 times more profile views than profiles without one! (Source: LinkedIn.com)
Craft Your Profile Headline – You can edit your headline by adding your job description to your profile. We recommend to fully focus on that one service that you are offering! Don't try to be too creative here. Just straight to the point: I help (or we help) companies (should ideally be replaced with the industry you are targeting) to get more… (whatever they desire). So for us at HIGHER-UP Digital, we could use something like "We help B2B service providers get more clients by creating outstanding content for their blog". Now it's your turn!
About/Info – This is a text field which is used to tell visitors something about yourself and encourage them to reach out to you. Similar to the "About Us" page on a website, this gives you the opportunity to introduce yourself and what you do in more detail. However, don't lose sight of naming what's in for your potential clients. Make sure you add how you can help them. Some inspiration: Talk about your mission and why you do what you do!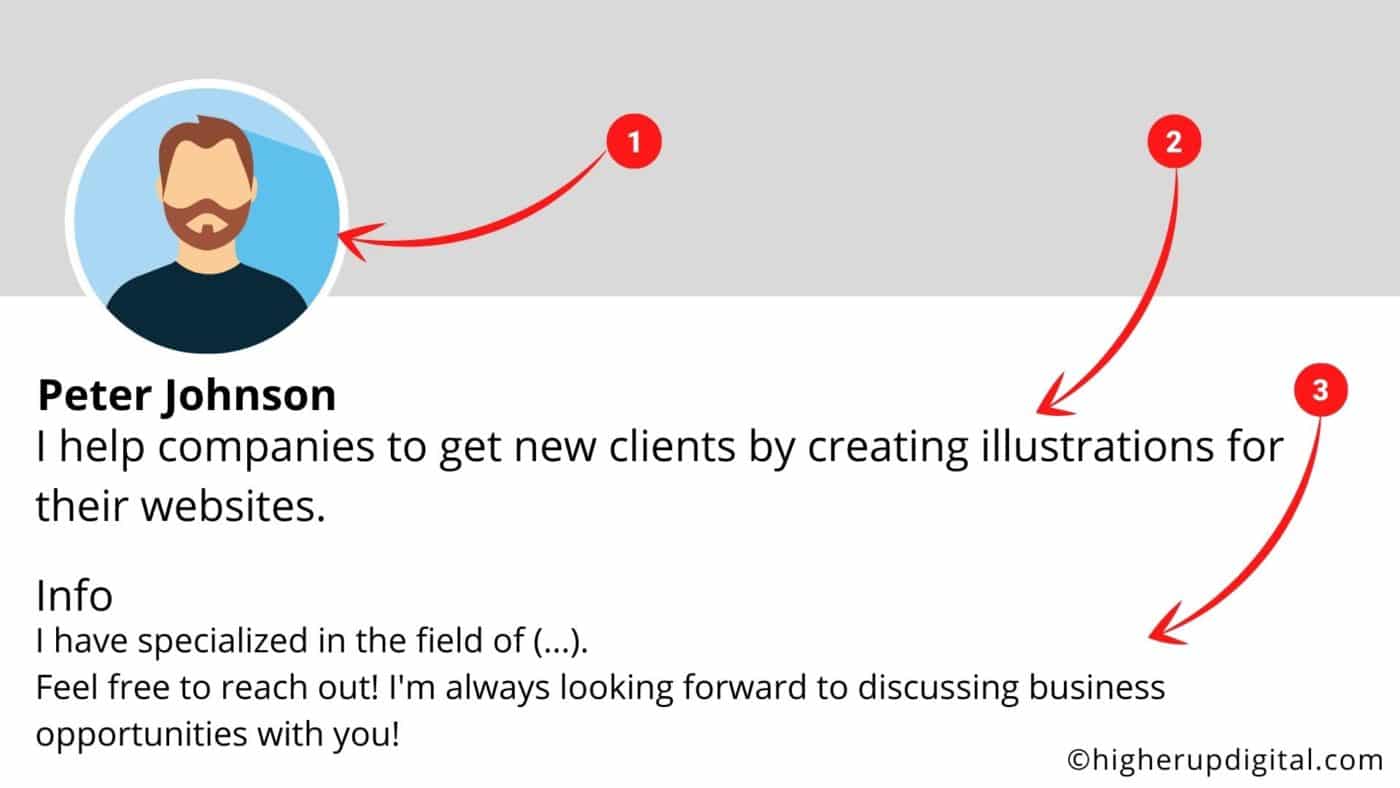 In addition, also fill in the "Experience" and "Skills" blocks. They do not require too much detail. However, since LinkedIn likes the profile to be filled out completely, these fields should not just be left blank. Simply add your education and some skills that are relevant for your business. Since it doesn't really matter, don't overthink it!
2. Build a Network Within Your Target Audience
By regularly adding new contacts to your contact list you will grow your network. It makes sense to connect with other people within the same niche or your actual taget group.
Using the LinkedIn Filter to Search For Prospects
To find contacts that match your target group, use the search function at the top left and type in terms that best describe your target group. If your clients are, for example, graphic designers, just type in "graphic designer", "illustrator", "graphic design" etc.
In the search results you will then see profiles that use these keywords. Browse through the profiles to find other people who are interested in these kinds of services.
To make your search even more specific you can use the filters in the bar below the search field and limit it to a certain region like the United States for example. Send a request to everybody who seems interesting to you.
Adding New LinkedIn Contacts to Your Network
You can also add a short text, such as "Hello Mr. Johnson, how are you? Let's connect." Important: At this point, it's all about networking! A sales pitch would be completely out of place here and is rather off-putting. LinkedIn will also get to know your target group once you get started and then make appropriate suggestions.
If you're having difficulties finding appropriate terms or contacts, don't worry – just try it out! Better a few unsuitable contacts too many, than not getting started. Remember, nothing can go wrong at this point. Start building up your network by adding 10-30 new contacts every day.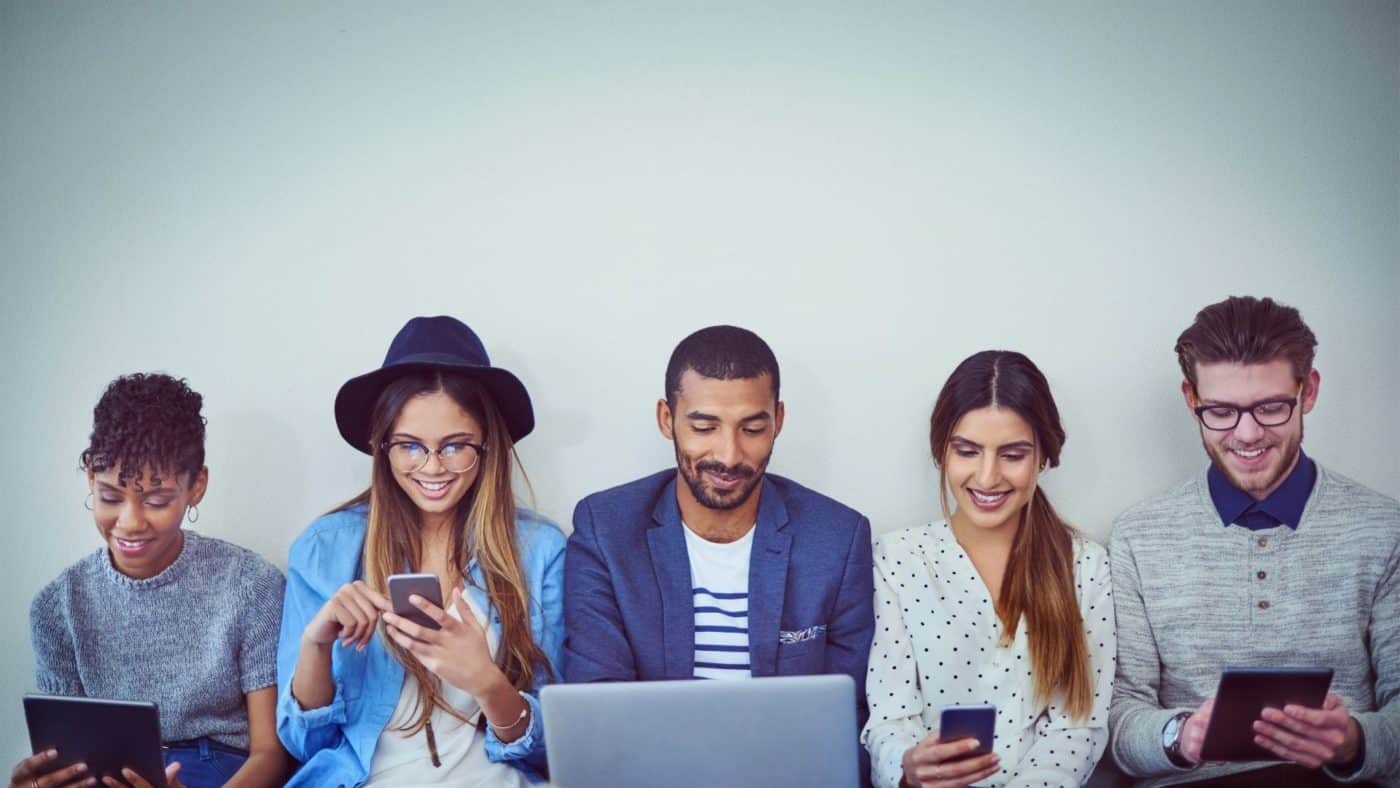 3. Use Your Growing Reach For Your Own Success
Once your contact list gets bigger, your reach will grow as well, meaning that every update that you post on LinkedIn will get in front of a larger audience. You can use this marketing channel in two different ways:
Reaching Out to Prospects – Generating Leads
Reach out to your new contacts, thank them for connecting and start a conversation. From our experience, the best way to do so is to briefly look at the new contact's profile and then ask a question about their job. For example, "Hello Mr. Johnson, I saw that you work in the XY industry. Have you ever dealt with (your service)?" You can even go further and start by asking questions exclusively about their profession, such as "How long have you been working in this industry?".
The first goal is to start a conversation. After all, that's the first step to build a relationship. Only if you can show that you are genuinely interested in the person, you can win their attention and trust.
If you don't get a response, you can try to reach out a few more times. Stay polite and don't do a sales pitch right away. If the contact says they are not interested or if there is no response at all, end the conversation like this: "If you are ever looking for (your service) in the future, I look forward to hearing from you. Until then, I'd like to share with you our latest blog post on (your service) and hope it's helpful for you!"
This way, you have either found a new client with whom you can directly schedule a meeting or at least you have reached a new potential future client who will continue to stay in your network.
The next part is building a longterm relationship by keeping the new prospect in your network and providing new content regularly.
Content Distribution and Promotion
In order to engage your contacts and leverage your new reach, it's important to be active on LinkedIn and regularly post new content.
For example when you've published a new post on your blog, use the feature on LinkedIn's home page to share posts and links. To do so, click "Start a post".
Enter the link of your blog post at the beginning of the LinkedIn post. A preview will then automatically appear. Embed the link in a message that summarizes the content of the blog post and includes a call for discussion, for example:
"In our new blog post on https://higherupdigital.com/linkedin-marketing/, you'll learn how to use LinkedIn to get more reach, new customers, and sales. Are you already using LinkedIn? And what has your experience been so far?"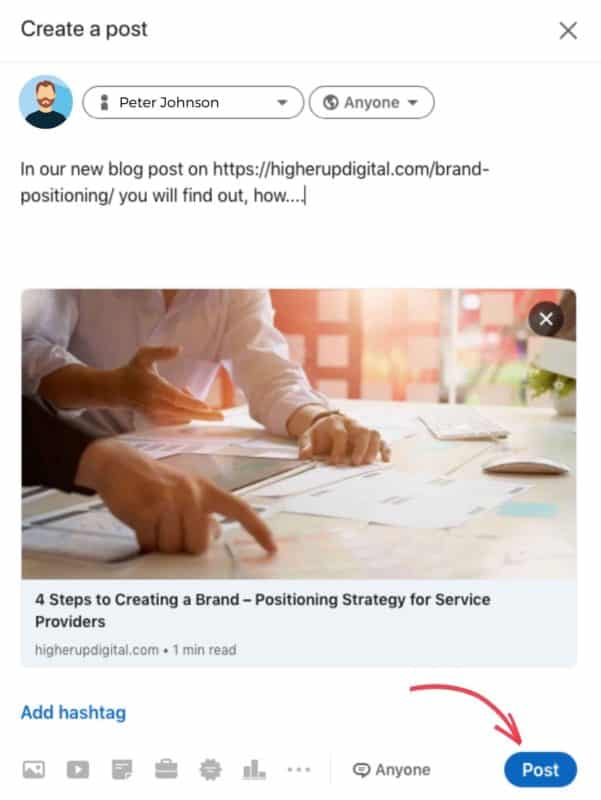 Your new contacts will see this post – and  comment on it. This will often create a lively discussion from which you can gain valuable information.
The fact that you have new contacts in your contact list that you've already chatted with and who will now see your posts means that you can easily increase your reach and will most likely be permanently remembered.
We Provide Content Marketing & SEO Services For Your B2B Company
We provide all services and resources you need to grow your B2B business online. Strategy, Webdesign, Content Creation.
What's The Difference Between Free LinkedIn and Premium LinkedIn Accounts?
We recommend to use a basic LinkedIn account to get started. It's free of charge and includes all the features you will need. Especially when starting out!
LinkedIn also offers various paid or premium subscriptions which you can opt for based on your specific needs. For some businesses it makes sense to get LinkedIn Premium Business and LinkedIn Sales Navigator Professional once they've settled in on LinkedIn.
LinkedIn Premium Business – The LinkedIn Premium subscription is designed to boost your network-expansion methods. It allows you to message LinkedIn members even when you are not connected to them. It also enables you to search for people without any restrictions. For advanced users, these features could come in handy. When starting out, it's not necessary and the free plan is just fine.
LinkedIn Sales Navigator – The LinkedIn Sales Navigator is a complete lead generation suite with a huge toolset that most beginners will not be even able to use. You also have the option to use advanced search filters. Furthermore, it allows you to send more messages and import contacts and tags directly into your CRM system. 
Both premium features can be useful for companies who have built a foundation on LinkedIn using their free account and who have exhausted all lead generation measures that are available for free. But still then, it is not always necessary to upgrade and invest in these features. Sometimes, keeping it simple is the best way.
Are LinkedIn Bots More Effective Than Actually Doing the "Manual" Work?
After many comparative tests for our own business as well as for our clients, we have drawn our personal conclusion. LinkedIn automation for example via bots that automatically add contacts and sends messages, is useless.
As always, only those who put in actual, genuine work building their LinkedIn network will be rewarded with real, valuable leads and new clients!
It is true that you save a lot of time with LinkedIn automation. But your contacts will notice if you only use impersonal standard text modules and will not respond to your inquiries. This way you only miss out on valuable contact opportunities – and in the worst case, you even lose out on reputation and customer loyalty.
Increase Your Website Traffic Now
Attracting new clients via high-quality content is the best and most sustainable way to grow your B2B business.
Conclusion – How to Implement LinkedIn to Your B2B Lead Generation Routine
Authentic Outreach and Networking – Be authentic and show genuine interest in your conversation partners. Only this way you will be able to grow a real connection. Experienced business owners can smell your intentions from miles away. If you approach them with a cold-pitch, they'll probably just remove you as a contact right away.

Deliver Valuable Content

 – Regularly publish posts that you have created as part of your 

content marketing & SEO strategy

. Make sure that your postings also provide real value to your target audience. End every post with a call to action or a question. This way, you will start a flywheel: New contacts will see your new posts each week – and they will remember you from the direct message! 

Develop a Routine – Be consistent in your LinkedIn tasks. If you spend 30 minutes a day, or any other regular schedule (for example, Monday, Wednesday, Friday), you will grow your LinkedIn reach and will be able to build and expand your network sustainably! Most importantly, focus on these two basics of adding contacts, reaching out to them and posting new content. That's all you need to do! Don't get distracted by "new tactics" such as automation bots or other shiny stuff.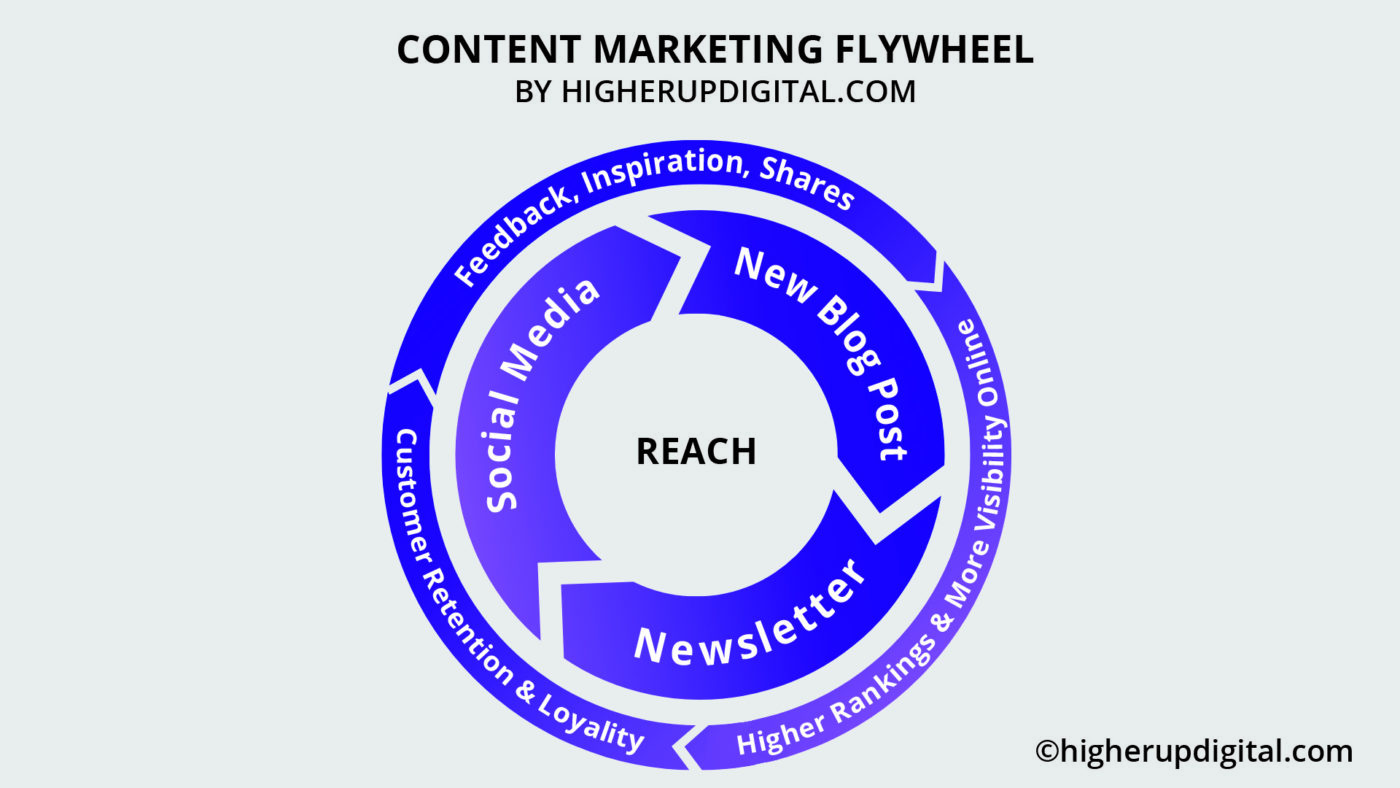 If you master the mentioned sales and marketing methods, LinkedIn will become a very helpful channel for your sales and brand to grow.
Use the feedback that you get from your contacts for your self-optimization. Who else will give you an unvarnished opinion of your services or your business? Take criticism to heart – but remain objective and don't let yourself be intimidated immediately by negative feedback.